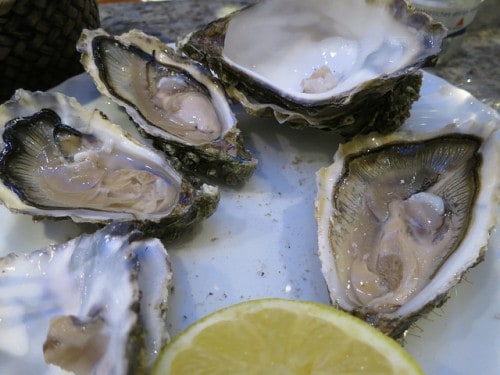 Novelist Stephanie Danler's favorite depiction of food in literature comes from the Seamus Heaney poem "Oysters," which begins:
Our shells clacked on the plates.
My tongue was a filling estuary,
My palate hung with starlight:
As I tasted the salty Pleiades
Orion dipped his foot into the water.
Danler mentioned the poem in a panel discussion on food in literature titled "Food and Fiction," one of the events at this year's Food Book Fair, which was held at the Wythe Hotel in Williamsburg on May 1st and 2nd.
Danler, who wrote Sweetbitter, was joined on the panel by Jessica Tom, author of the novel Food Whore, and Helen Ellis, whose collection of humorous short stories American Housewife came out earlier this year. Cathy Erway, host of "Eat Your Words" on the Heritage Radio Network and author of The Food of Taiwan and The Art of Eating In, was the moderator.
The sensory richness of the Seamus Heaney poem that Danler cited—"my palate hung with starlight"—set a fitting tone for the Food Book Fair, which felt like a celebration of all that is beautiful in food writing and publishing. Continue reading →