GOS 2017, Dirty Talk, The Other Art Fair, Closet Archaeology, Go Green! — What's Happening, Greenpoint? (5/31–6/6) – Arts in North Brooklyn Edition

On June 3 & 4th, 400 local artists will open their doors to the public and showcase works and works in progress during this year's Greenpoint Open Studios! Check out the the full schedule of events here!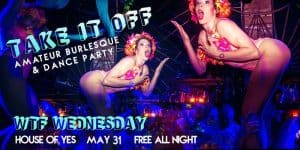 WEDNESDAY 5/31

*Open Space Alliance Party 4 Parks! @ 35 Kent Ave, 7pm, $200+, Join forces with OSA and the neighborhood's Super Friends Groups to fight for nature, beauty, health, fun, environmental justice and economic development, Buy tix
* DIRTY TALK: Getting What You Want Out of Sex @New Women Space (188 Woodpoint Rd) 7pm, A hybrid of a panel and creative workshop in collaboration with some amazing women who have various backgrounds and expertise on sex and dating, Buy tix
♫ TAKE It OFF: Amateur Burlesque @ House of YES (2 Wyckoff Ave) 9pm, FREE, Come see the hilarious brilliance of total newbies and first timers taking off their clothes and showing off their moves just for you, RSVP
=) 2 Dumbs May @ House of YES (2 Wyckoff Ave) 9pm, FREE, Come see the hilarious brilliance of total newbies and first timers taking off their clothes and showing off their moves just for you, RSVP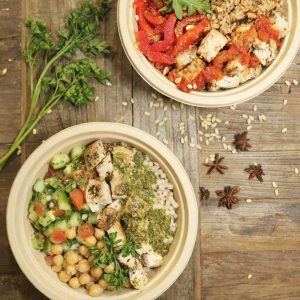 THURSDAY 6/1
♦ The Other Art Fair @ Brooklyn Expo (72 Noble St), 5pm, $13.50+, The Other Art Fair is a leading artist fair presented by Saatchi Art, exhibiting the work of the very best in emerging art to art lovers from all experiences, Buy tix
* Maibock(y) Launch Party! @ Brouwerij Lane (78 Greenpoint Ave), 6pm, FREE, Dance while DJ Bocky spins some tunes and drink pints of 'Dance Around the Two Pole Maibock', a hearty lager using with rye malts and Saphir hops to give it the bright synth-like sparkle, More info
# Pioneer Eats Taco Nite @ The Diamond (43 Franklin St), 7pm, Feast your eyes and your tummys Thursday nights this month as we trot the globe from our bar stools, Buy tix
♫ 2 Years of Black Flamingo w/ Tom Noble x DJ Spinna @ Black Flamingo (168 Borinquen Pl), 10pm, FREE, Two years of community building, show a move on the floor + vibes real right, RSVP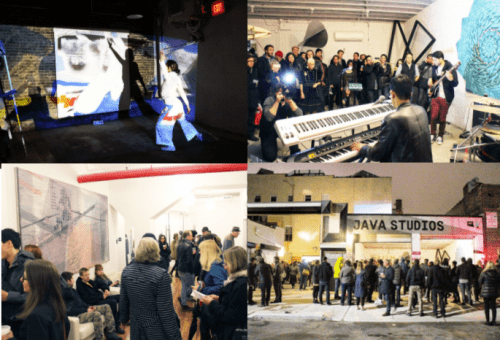 Greenpoint Open Studios 2017 Launch Party at Java Studios (252 Java St) kicks off the festivities on Friday, June 2nd (7:30-11:30pm) with an outdoor reception, gallery show opening, musical performances and DJs, live body painting, performance art, installations, video screenings, magazine launch and more! FREE beer provided by Greenpoint Beer & Ale! RSVP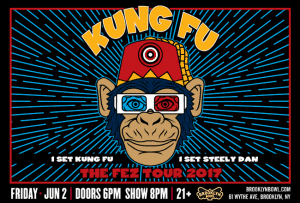 FRIDAY 6/2
* Radio Free Brooklyn at 'Resistance Radio' Symposium @ UnionDocs (322 Union Ave), 10am, $350, During this weekend intensive, you will have the opportunity to participate in a live FM broadcast and the chance to create your own DIY internet radio station. You will also be able to get feedback on a work-in-progress radio show, More info
♫ Kung Fu at Brooklyn Bowl – The Fez Tour @ Brooklyn Bowl (61 Wythe Ave), 8pm, $15, In the vanguard of the new-funk movement, KUNG FU is quickly popularizing their unique sonic contribution "NU-SION", blurring the line between intense electro-fusion, and blistering dance arrangements, Buy tix
♫ Dæva @ Pete's Candy Store (709 Lorimer St), 8pm, $5 (suggested donation), Dæva is a Brooklyn-based demon girl who likes to write songs and cast spells, More info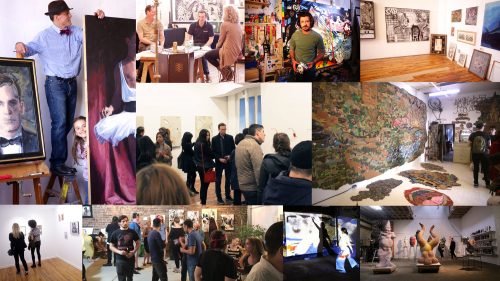 A Weekend Full of Art in Greenpoint is Happening! 400+ local artists will open up their studios to the public to showcase their work for Greenpoint Open Studios 2017! Additionally, The Other Art Fair by Saatchi Art is making its NYC debut right here in Greenpoint and Go Green! Brooklyn Festival is hosting a public open-air studio in McCarren Park to feature Art-in-Action live art projects and artwork by some talented eco-artists!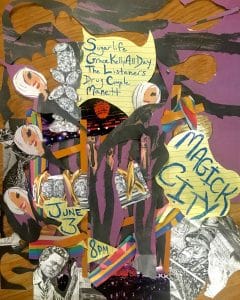 SATURDAY 6/3

* Practical Self Defense Seminar @ Narayana Integrative Center (191 Nassau Ave), 2pm, $50, Two-hour course to get a better understanding of how to avoid becoming a target, fending off an attacker, minimum of five techniques you can use to defend yourself during an assault, and more, More info
* Closet Archaeology Opening @ The City Reliquary (370 Metropolitan Ave), 2pm, $5, Presentations from some of the junior archaeologists from the Children's Workshop School as well as professional collectors and anthropologists on an accidental time capsule built by the students who had also once sat in their classroom, More info
♫ SKIN DEEP @ Brooklyn Bazaar (150 Greenpoint Ave), 7pm, $12, A diverse line-up of up and new cross genre artists from Hip Hop to Dance Punk! The show is ALL AGES and all proceeds will benefit the NY chapter of the ACLU to support their fight to keep America FREE and DIVERSE, More info
♫ Sugarlife/Grace Kelly All Day/The Listeners/Drug Couple/Manett @ Magick City (37 Box St), 8pm, More info
♫ Beats In Space Presents: Prins Thomas & Tim Sweeney @ Good Room (98 Meserole Ave), 10pm, $10-20, Prins Thomas is responsible for a swag of the eclectic 'space-disco', Tim Sweeney will be jumping behind the decks with his eclectic vinyl collection, Buy tix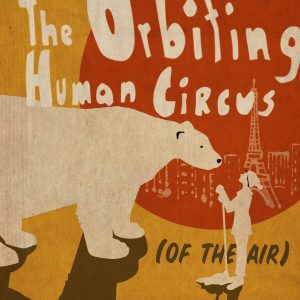 SUNDAY 6/4

* Another goddamn lesbian movie / a choreopoem @ Time's Up! Brooklyn (99 South 6th St), 5:30pm, FREE, You use our tools and stands to work on your bike. Experienced mechanics will be present to answer questions, but you do the work, More info
* Greenpoint Open Studios Wrap Party! @ Magick City (37 Box St), 7:30pm, FREE, Wind down from GOS with BBQ, beer, kombucha cocktails, music, and a light show in the enchanting Magick City, a beautiful performance and art space that is also home to Mombucha, a hand-crafted locally brewed Kombucha, RSVP
♫ The Orbiting Human Circus featuring The Music Tapes @ Brooklyn Bazaar (150 Greenpoint Ave), 8pm, $18, Both an immersive theatrical experience and a musical show, this evening commemorates the release of a fictional narrative podcast created by Julian Koster (Neutral Milk Hotel), Buy tix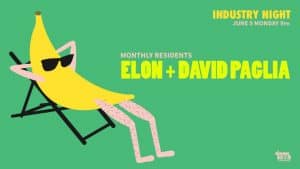 MONDAY 6/5

* Shamanic Healing Night @ Golden Drum (97 Green St), 7pm, $30, A specially curated program of healing modalities and traditions, which will create a unique experience inspiring healing; inducing relaxation; supporting growth; and transforming perception, Buy tix
♫ BEHEXEN / DUMAL / BELIÄL / TELOCH VOVIN @ The Paper Box (17 Meadow St), 7pm, $20, Presented by Metal mafia, Buy tix
♦ Brooklyn Horror Film Festival Presents: Personal Shopper @ Videology (308 Bedford Ave), 9pm, $10, Olivier Assayas, the internationally-acclaimed director of Clouds of Sils Maria and Summer Hours, returns with this ethereal and mysterious ghost story starring Kristen Stewart as a high-fashion personal shopper to the stars who is also a spiritual medium, Buy tix
♫ Industry Night w/ Residents @ TBA Brooklyn (395 Wythe Ave), 9pm, FREE, A banana (Elon) and a Paisano (David Paglia) come together, lugging in their respective vinyl collections to deliver an aural delicacy of rhythms and grooves spanning multiple genres of music including house, disco, funk, techno, downtempo, midtempo, uptempo, all tempos and everything in between, More info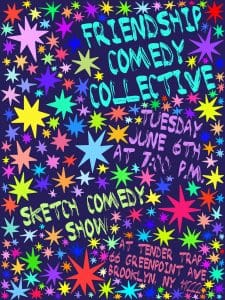 TUESDAY 6/6

♫ Mutoid Man, Helms Alee, Primitive Weapons @ Saint Vitus (1120 Manhattan Ave), 6:06pm, $6.66, Sixpoint returns with Mutoid Man, Helms Alee and Primitive Weapons for SixSixSixpoint Part IV! We're brewing a Mutoid Ale just for the occasion and all you mutants that march to the beat of your own drummer, stay tuned, More info
=) The Friendship Comedy Collective's June Show! @ Tender Trap (66 Greenpoint Ave), 7pm, 10 brand new sketches written from a slim slice of the people making up the Brooklyn Comedy Pizza Pie, More info
♦ Zachary Cale // Trummors // Speer Duo @ Union Pool (484 Union Ave), 8pm, $10, Zachary Cale's music ranges from lyrically driven balladry over American Primitive inspired guitar playing to Cosmic Country music and cerebral Folk Rock. Trummors play a sweetly psychedelic take on 70s country-rock. Speer Duo plays acoustic jams on fretted oud, bouzouki, and hand drums, More info
♫ Black Marble, Body of Light, Public Memory @ Good Room (98 Meserole Ave), 8pm, $13, Buy tix
* Greenpointers Pick
♫ Music
^ Literary Event
♦ Art Event
☺ Comedy Event
# Foodie Event
♥ Pheremones Likely