Go Camping in Bushwick Inlet Park This Saturday Night!
W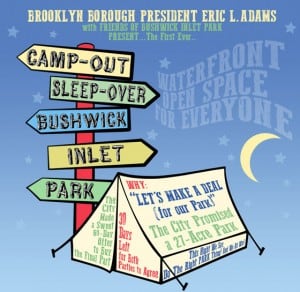 hen was the last time you ever camped out on New York park land? This Saturday July 9th at 7pm, join Brooklyn Borough President Eric L. Adams, Open Space Alliance for North Brooklyn and Friends of Bushwick Inlet Park at Bushwick Inlet Park (1 N12th St @ Kent Ave ) for a Sleep-in Protest Teach-in.
A few weeks ago the City of New York made a $100 million offer to the owner of the CitiStorage site, the last remaining parcel the city needs for the waterfront land to become a taxpayer-owned park. The owner hasn't yet accepted the offer, so folks are gathering on Saturday evening to support the sale. Organizers are hoping the local community will come together Saturday night to call on all parties to do the right thing.
Bring a tent, sleeping bag & pad and a garbage bag to pack-it-in-pack-it-out.
Food and music will be provided along with historical and political discourse from Daniel Campo, author of The Accidental Playground, and Adam D. Perlmutter, Chairman of Open Space Alliance of North Brooklyn. Good and enlightening times will prevail.
You should register to attend (it's FREE).