What Ever Happened to the Fowler Arts Collective?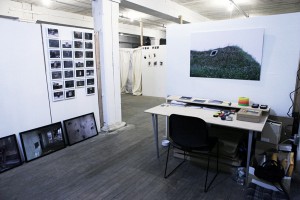 Before it closed in July 2015, the Fowler Arts Collective housed dozens of art studios at the Greenpoint Terminal warehouse on 67 West Street. "It is hard to imagine now," says its founder, Lia Post, "but the building was almost completely un-renovated and uninhabited [when I arrived]. There were two other small artist studios on the second floor with me [and] a nice family of raccoons that hung out in the evenings and patrolled the outdoor porches."
Post began looking for studio space in 2009, after she moved from Philly to Greenpoint with an MFA in Photography from the University of Pennsylvania School of Design. "In Greenpoint at that time, there were very few artist spaces besides Brooklyn Art Studios," she says, "and it felt like so many artists in the neighborhood were looking for affordable studio space."
Shortly after, Post started viewing larger workplaces to share with other artists, which led her to the Greenpoint Terminal warehouse. "The per square foot price was low enough that I soon realized I could create enough studio spaces to cover the rent and expenses and also leave room for a very large gallery and event space," she says. Thus, the idea of a collective, where artists could reduce costs by renting together, was born.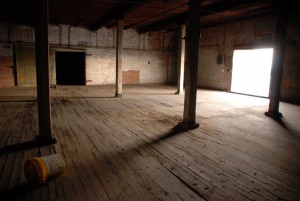 For the first four years, Fowler thrived, experiencing only minor rent increases and attracting new artists. "The community was great, very chill, very productive," says former Fowler artist James Vanderberg.  "I always felt like I was surrounded by professionals in their field, but they were also young and very fun."
"You are constantly worried about space and money in New York," says Elana Adler, who joined Fowler in its first year, and who stayed "until people got kicked out." Not only did the Collective provide cheap space, but the community itself became an axis for collaboration. "Fowler really evolved and grew," says Post, "and my original vision was exceeded. The exhibitions program ended up being the heartbeat of the Collective. It was a way for studio artists and artists from different parts of the city to meet and explore working and making work together and in response to each other."
Eventually however, the Collective was somewhat undone by its own success. In 2014, the landlord demanded a 20% increase in rent, and Post had to terminate the gallery program to make space for more studios. In July 2015, the Collective received a fatal 50% increase that rendered its original goal – to provide inexpensive studio space – impossible.
"I can definitely say we were part of the evolution of 67 West and a reason the management decided to start kicking out the original tenants," says Post. "The artists on the 2nd floor really established the building before anyone else would rationally decide it was a good place to move an office or work space. The management saw that people were coming and visiting the spaces and started increasing rent as each new floor was built out."
Today, 67 West Street is home to small businesses as well as larger commercial enterprises. The artists were forced to find other spaces, or, more often, not. "Renting is no longer a real option," says Vanderberg, who was recently awarded a visiting artist residency at Brooklyn Art Space. "People are taking advantage of artists and their need for space, and charge $400 or more for 80sq feet. […] No one has spaces as well organized and as well priced as Lia did."
As for Post herself, the end of the Fowler Arts Collective meant the end of her Brooklyn arts career, and she moved upstate to collaborate on new projects. "I could no longer afford my apartment in Greenpoint without Fowler as my job," she says, "so I had to jump ship on NYC entirely."