Is this Your Cat? Found in Master Piece Smoke Shop Saturday (1/9)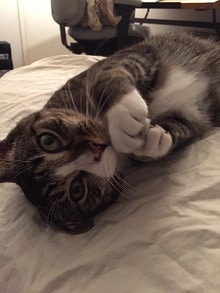 Does this adorably special furr-ball belong to you? S/he was found on Saturday, January 9th at approximately 1pm when he ran into the back door of Master Piece Smoke Shop avoiding the cold weather. Neighboring store owners also stated that the cat tried to run into their establishment.
This gorgeous cat is described as 12 out of 10 on the affection scale and is particularly vocal.
Please email Michael Brandon at [email protected]