Corner Frenzy Closes for the Summer, and for Good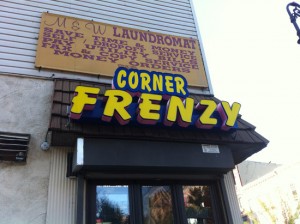 A telltale sign that summer is officially over in Greenpoint? The end of soft serve at Corner Frenzy, the tiny but delicious snack shop inside of M&W Laundromat. Sadly, this time they're not just closing for the summer – but for good. Miriam Benavides, the daughter of Corner Frenzy's owner who can usually be seen behind the counter, simply says her mother grew "tired" of keeping up the concession stand, along with maintaining the laundry business. They still don't know what will take its place.
Though this Greenpoint staple was a summer hot spot for soft serve, it was also loved for its addictive $1 empanadas, served all year long. Those who need their fix will find an answer next door at Cafecito Bogota, but that still leaves a soft serve-sized hole in the neighborhood's heart. Let's hope someone picks up the torch before summer 2014.