SoFar "Sounds From A Room" Pop-Up on Norman Ave: A Yana Banana Special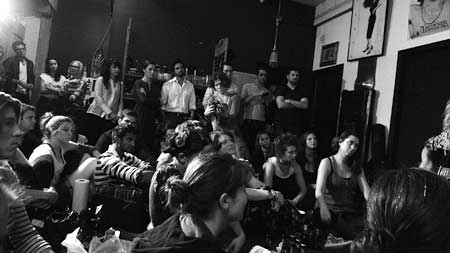 While walking through McCarren last night, I called contributor Yana, AKA "Yana Banana," to talk about ideas for our holiday market. Yana is our number one tipster for fun and obscure events around town. And she's bananas.
"Hi Yana…"
"What are you doing now? I on Norman and Kingsland. There is a show. Come now! Come now! Come now! Come now!"
Yana can literally repeat the same phrase a hundred times until you have no choice but to do what she is begging you to do. We turned back home. Into a commercial building on our corner and up the stairs. Once in the large open space we hit a wall of people, one of them Damon, organizer of SoFar Sounds, who welcomed us with more kindness, enthusiasm and a clearly Brooklyn accent, all rare things at loft parties in Brooklyn. We spotted Yana in her crazy pants and crazy hair sitting Indian style in the middle of the room.
"What's up Banana?"
"It's a music show!" Yana vibrates when she talks.
"Who's playing?"
"I don't know."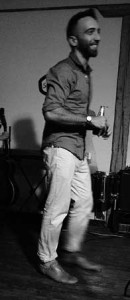 Before we could escape, the dapper looking Damon (left) took center stage to introduce the first performer, Julia Haltigan.
He talked about SoFar, which began in London and now secretly pops into living rooms in over 21 cities around the world. Damon said, "Sofar is the best thing and worst thing for music. It's the best thing because it's an experience you are never going to forget. It's the worst thing because when you go to another gig you're gonna say fuck, this isn't Sofar."
After Julia Haltigan, singer song writer, who made sing alongs not dorky, Damon took the stage again, this time explaining the rules. This guys is definitely from Brooklyn, I thought, bossing everyone around. The rules were: no talking, no cell phones and you can't leave until the end. But we weren't going anywhere.
The more performers we saw, the more we wanted to stay. The format was great, too. Each performer only played three songs, then next! – which definitely is a good way to keep a crowd.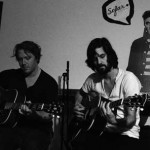 A rock duo from Baltimore and London called the Majorlines (right) played. The main singer's Lou Reed vocals made for beautiful harmonies between the two guitar players.
Live music, close to you, without amplification, raw and good is what Sofar is all about.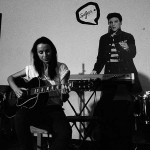 Two more amazing singer song writer ladies performed: Kendra Morris and Holly Miranda (left), whose vocals were incredibly strong and perfect. Like when you hear someone singing and wonder how it's not a recording it's so tight.
Host and Greenpointer Zac Taylor's band, himself on guitar plus a stand-up bass performed.
The last set was a guy girl duo from LA called Violet Lights. It was the most intentionally awkward show I've ever seen. While she aggressively banged out of beat on a drum, he sang and played guitar with a smooth voice and scared look on his face. She was musically abusing him.
Next time Yana Banana invites me spontaneously to a random event, I'm going to take that call.
You can watch this entire performance on a live stream recording. If you want to check out Sofar, get on their mailing list.
Sofar is putting on a CMJ show right here in Greenpoint in October. Where? Your guess is as good as mine. Sign-up.
This Wednesday September 12th, Holly Miranda, Kendra Morris and Julia Haltigan are performing at Zebulon Cafe (258 Wythe Ave).
All photos by Yana Gilbuena.