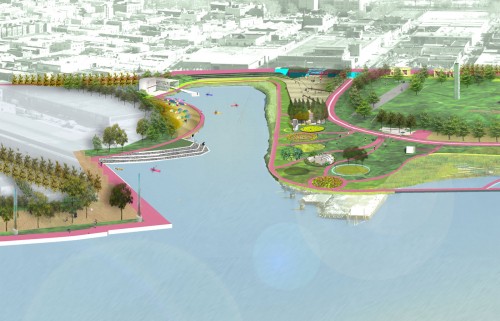 Well I hate to say I told you so, but even as CitiStorage still burns, the 11 acre lot could be sold to private developers–as soon as tomorrow, warns City Councilman Steve Levin. Many of you may recall from last week's post, the future of the CitiStorage site was on shaky ground, but I doubt any of us would imagine losing our parkland so soon.
According to the FDNY, the site is still under investigation and investigators have yet to access the origin of the fire due to hazardous conditions.  For the unforseeable future, we won't know if there was foul play that sent CitiStorage up in smoke, but we do know the land is up for grabs, and perhaps to the highest bidder.
So while I don my silk turban and gaze once again into my crystal ball to predict what other crazy conspiracy theories might come true–like arson charges and measly insurance payouts–I am here to warn you: A war is afoot to reclaim CitiStorage as parkland and it's time we start sharpening our skewers.
The South Williamsburg neighborhood group El Puente is hosting a CRITICAL CALL TO ACTION tonight and everyone from Williamsburg and Greenpoint should be there. Continue reading →
Category:

Community, News, Uncategorized
Tags:

2005 rezoning, Bushwick Inlet Park, CitiStorage, conspiracy theories, EL Puente, Fire, OSA, parks, Real Estate Developers, Steve Levin, WAP
0 Comments