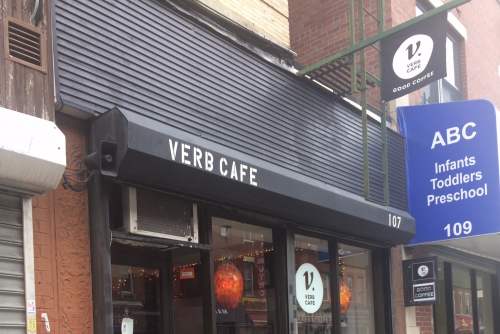 Verb Cafe (107 Nassau Ave) reopened in Greenpoint last month, a year and a half after the beloved Williamsburg location in the Girdle Factory closed in the summer of 2014 — replaced by, of all things, an artisanal soap shop.
Owner Cisco Rodriguez is committed to keeping the vibe of the old Verb while bringing in new ideas, inspired by both his personal vision and the feedback he gets from regulars in the new neighborhood.
When I walked into Verb Cafe to meet Cisco Rodriguez, the first thing he did was offer me a bowl of quinoa. He's experimenting with bringing the ingredient to the menu, complete with accompaniments like avocado, grilled onion, hummus, and tomato. The second, third, and fourth things he did were greet each customer who walked in either by name or by noting a previous experience at the café.
"How'd your fella like his bagel the other day?"
"Let me make sure I get your Cholula!"