This article made possible by a donation to our Writer's FundRaffle by Selamat Pagi.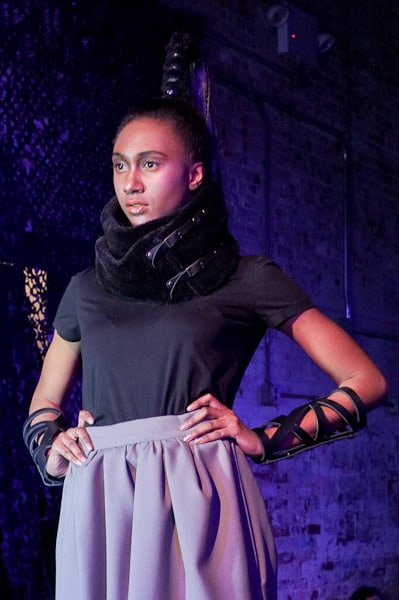 There are few better signs that you picked the right thing to wear to an event than walking in and finding that the designer of your clothes went with the same choice.  While normally finding your twin out in public is an annoyance, at Williamsburg Fashion Weekend it's a sign of maturity: styles incubated in their most intense forms on the stage here bleed onto the bodies in the crowd and out the doors towards the street.
In the most recent occurrence of the biannual show this past Friday and Saturday, the scene opened with terse, politically pointed words from charismatic frontman Arthur Arbit: it's simply not possible to come home from H&M or Bloomingdale's with a $29 blouse without slave-like labor being involved in some stage of that supply chain.  He then quickly stepped aside to show us several dreams and a couple nightmares of the alternative.  Selected photos are below, but you can find my full gallery from the first night here.
The first showing of the night was Uta Brauser (photos in gallery) with her Got Armor? collection.  Meant to be a critique of modern gun violence, the stylish vests and shields of this collection are perhaps too plausible, and I loved the image of models pantomiming classic runway moves as they deflected the on-stage barrage of (soft foam) bullets. Continue reading →
Category:

Culture, Style/Shopping
Tags:

Apartment 4b, Arthur arbit, Brooklyn, brooklyn fashion, derrick hinds, fashion, Gina Tron, ideal glass ny, IQTEST, Jena Cumbo, kaci head, Mandate of Heaven, marco santaniello, marcus hicks, melissa lockwood, nathalie kraynina, Peter, SDN, shazaam magic, shute organic, uta bekaia, uta brauser, wfashionw, wfw, williamsburg fashion weekend
0 Comments