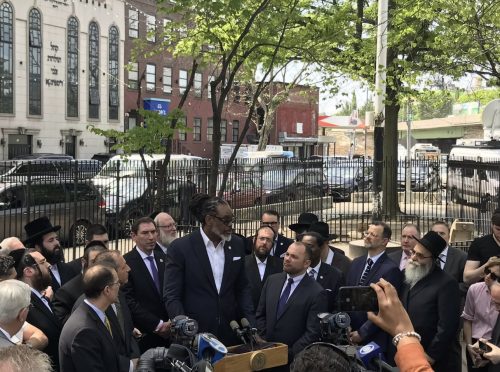 More funding is needed for the newly created Office for the Prevention of Hate Crimes, a group of NYC lawmakers announced yesterday at a press conference on Monday in Williamsburg.
We are grateful to @NYCSpeakerCoJo for coming to Williamsburg to condemn recent anti-Semitic attacks with councilmembers @ChaimDeutsch @MarkLevineNYC @CMMathieuEugene @AndrewCohenNYC @RLEspinal @bradlander @RCornegyJr and CM Alan Maisel pic.twitter.com/pboPxXMKos

— UJO of Williamsburg (@UnitedJewish) May 20, 2019
Mayor Bill de Blasio will allot $336,000 in funding in the city's $92 billion budget for 2020, but the city council says that the hate crimes prevention office will need $475,000 for its first year and $713,000 annually thereafter, according to the Brooklyn Eagle.
The NYPD's statistics for 2019's first quarter show a 67 percent total increase in reported hate crimes compared to the first quarter in 2018.