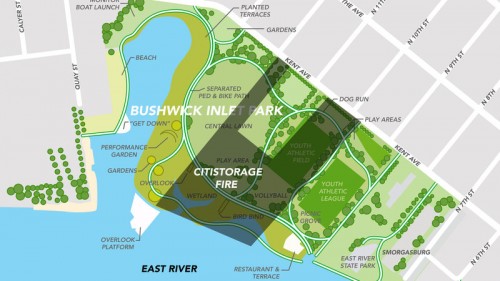 Last month Greenpoint and Williamsburg neighbors broke out of North Brooklyn and headed down to City Hall to fight for Bushwick Inlet Park. We joined hands, sang songs, screamed our heads off and showed Mayor DeBlasio we have serious balls to bang on the table. In fact, there were so many of us at City Hall, 300+ people by most accounts, we were spilling out into the streets because there wasn't enough room to for us all.
Our rabble-rousing Friends of Bushwick Inlet Park are at it again and need our help. They are passing around a petition which lays it out to the Mayor in clear-cut terms: We want our park, you know the one promised to us YEARS ago, and we won't back down until we get one!
Don't think this issue effects you? Think again.