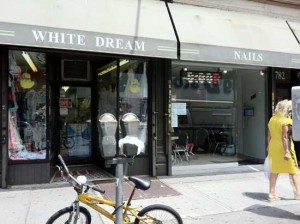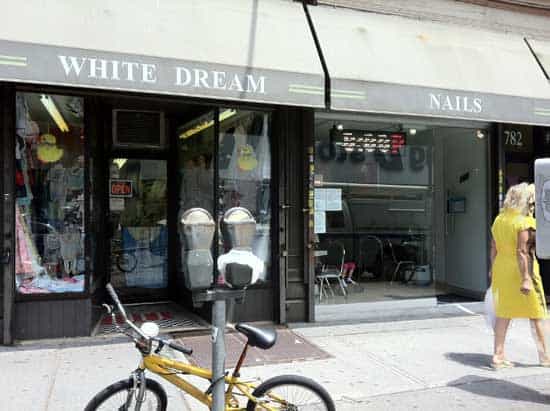 Right next to White Dream, the storefront on Manhattan Ave that gives me the giggles every time, is another awning that simply says Nails. I walked in and knew this was the place where I would do it: the infamous and controversial gel manicure.
A manicure that lasts for two weeks and doesn't chip? Sound too good to be true? Lots of ladies rave about it. Others are concerned it's bad for your nails and your health. When I asked my platonic wife Julie to take the plunge with me, here is what she said:
Jules: I totally want, but we (the Jewish mother convention on the Upper West Side) had a long table discussion about it's many pitfalls and now I'm scared.
Jen: Share!
Jules: They strip your nails and take forever to recover! As in never the same again. The UV light causes cancer! One woman went to the hospital with 2nd degree burns…All together "not worth it" was the consensus.
Jen: That sounds like an overreaction!
Jules: We're Jewish!
Fair enough. Every girl needs a Jewish mom to worry about their health and nail safety. But they look so glossy and perfect!
Category:
Style/Shopping
Tags:

beauty, Brooklyn, color, fashion, Greenpoint, mani-pedi, manicure, nail polish, nail salon, nail salon tour, nails, pedicure, salon, style, trends, women
3 Comments