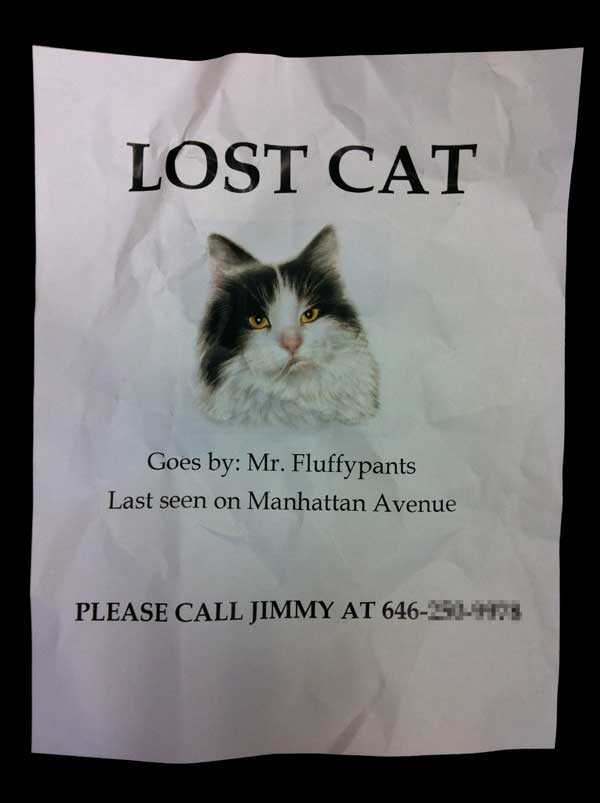 Sometimes it feels like Greenpoint is the capital of Lost Kitty-land, or perhaps where all Internet cats go to retire. It doesn't take long to find a lamp post covered with layers of lost cat posters, old ones getting covered up by new ones.  It feels as though our fine little northern Brooklyn neighborhood is overrun with free kittens, feral cats and locals looking for their lost furry friends.
Ever wonder how this happens? How do people lose their cats? Do they leave their doors or windows open? Are felines naturally attracted to those giant digester eggs at the waste facility on Greenpoint Avenue? Are Greenpointers trying to hipsterize their cats by making them "free range"? If your cat "escapes" your home, would you chase right after it? Or do people think that posting flyers all over the neighborhood will bring them back?
Look at these flyers. Many of them don't have a good picture of their cats so the tiny chance that someone may identify their missing pet is minimized. And many say, "Goes by: Mr. Fluffypants" Really? Cats respond to names given to them? I don't think so. And there is the phone number; what are you supposed to do with that? Call and say that you think you just saw their cat running east on Manhattan Avenue?
I do have sympathy for anyone losing a loved one, but might I suggest to all cat owners right now: Take some good mug and side profile shots of your kitty and create a missing cat flyer template now because chances are it's going to happen.
Now, I don't have a completely sarcastic view of this. Just yesterday, I was walking down my street and saw another missing cat flier for a very cute long-haired friend named Nappy, and it reminded me of when I lost my beloved feline Casper when I was 12 years old in a land far away from here.
Category:

Culture, Lost & Found
Tags:

adoption, animals, blogger, Brooklyn, brooklyn imbecile, cats, dogs, funny, Greenpoint, kitten, lost and found, Pets, posters, puppies, rescue, tony
3 Comments