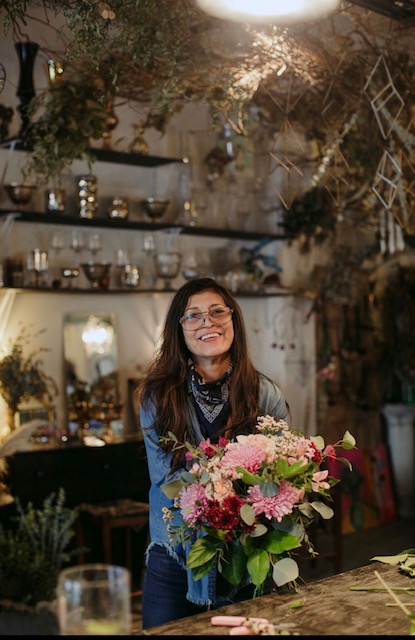 If you've walked along West Street on the way to Transmitter Park, you may have already met Maria Christina Nino of MC. Nino Designs (65 West St.) as she casually chats with locals and their doggos in front of her design studio storefront.
Not your average floral designer, Nino has a hand in all aspects of wedding and event production from the flowers to the lighting, linens and more. And now with her storefront, she's open for retail. Here Nino shares how she thrives in the face of all obstacles including the coronavirus pandemic. Nino also speaks about what she loves the most—the personal relationships she builds with her clients (especially her brides!) as she brings their dreams into reality.
Greenpointers: With so many weddings and other large events on hold, how are you adjusting to this strange time?
All of my weddings for my brides are postponed, so I had to adjust in order to keep the studio open. I'm not primarily a retail store; I design weddings and events all over the world. But I kept getting inquiries about Mother's Day, so I went and got flowers. Then we did social media, and I said, "Okay! We're open for retail," following CoVid requirements. I got such a great response for Mother's Day because all of my clients and walk-ins already know my work and were excited. I thought we'd only do it once, but now the word is out—Maria is open for retail! Now people are calling and placing orders: flowers for anniversaries, birthdays or just because. So that's really nice. Even though the pandemic has cast a black cloud over my business for my events, this is the silver lining. I'm doing retail and giving people fresh flowers. It creates a sense of normalcy to have Mother Nature coming in. It makes them happy! And if I can make someone happy for a week or two weeks (my flowers last long—cha-cha-cha!), that gives me so much joy. Continue reading →