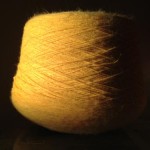 As I sat on my couch staring at my navy blue wall, I began my career coaching session with Kim Ann Curtin, who is known as The Wall Street Coach. We didn't meet in person because an early March blizzard kept us home, and that was a good thing.
I had sat in the same position and stared at the same blue wall the day before, when I felt what Kim would help me comes to terms with: my cotton candy brain.
Kim, a Greenpointer, is the Wall Street Coach because back in 2008 during the financial meltdown, she sat on a bench outside of the stock exchange with a homemade sign and offered free coaching, or as CNN put it an "emotional bailout," to anyone who passed by.
Like all Greenpoint connections, it's the great community here that brought Kim and I together. While kicking my ass, trainer and friend Dishan of [email protected] heard me complaining about how I want to quit my job and work on Greenpointers full-time (even though I already do) – so she put me in touch with Kim.
The timing was right. I really had been yearning for some advice and direction and thought many times about seeking the expertise of a career coach. Continue reading →