Receive What's Happening? via email!


There are more events in our weekly calendar. Submit Greenpoint events, too!
WEDNESDAY 6/26
Cancelled: Community Forum on Sexual Violence @ Greenpoint Church (136 Milton St) 7:30pm, the recent sexual assault in Greenpoint will be discussed as well as ways to create a community-based strategy for staying safe
• Riders Alliance Happy Hour @ Dino (222 DeKalb Ave) 7-8pm, Drink good beer, sample fancy cocktails and find out more about the Riders Alliance and the fight for better transit in New York, RSVP
• Heavy Metal Laser Plane Comedy Show @ Legion (790 Metropolitan Ave.) 8pm, Free, hosted by Tom Cowell and John Anderson, Comics Sean Donnelly, Christi Chiello, Matteo Lane, Monroe Martin III, RSVP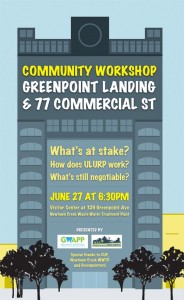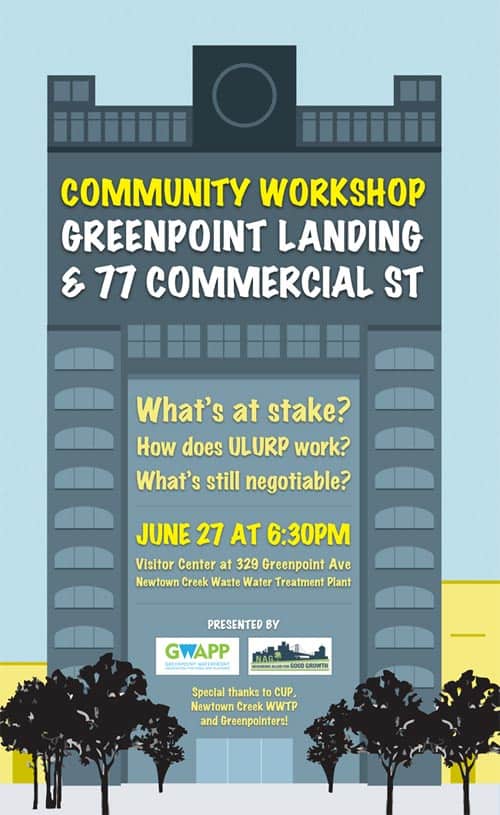 THURSDAY 6/27
* Community Workshop on Greenpoint Landing & 77 Commercial St @ Newtown Creek Waste Water Treatment Plant Visitor Center (329 Greenpoint Ave) 6:30-8pm, Free, Open to the public, to discuss what is "as-of-right" (per the 2005 Waterfront Rezoning), what is still negotiable, ULURP approval, RSVP
♫ Fucked Up / Title Flight / Hop Along @ House of Vans (25 Franklin St) 7pm, All ages, More info
# "Beer & Cheese" with Janet Fletcher @ Diamond Bar (43 Franklin St.) 7pm, Meet the author, buy the book, $12 cheese and beer pairings
♫ Late night, Low Down Piano w/ Smokin' Billy Slater @ Manhattan Inn (632 Manhattan Ave) 10:3pm, Free, sit back or dance it up while Smokin' Billy Slater gets down and dirty on the white baby grand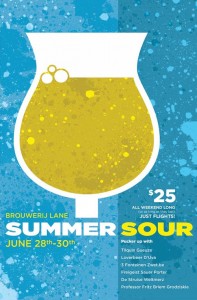 FRIDAY 6/28
♥ Summer Sour @ Brouwerij Lane (78 Greenpoint Ave) Thru Sunday, Pucker up! $25 flights
♦ Phaedo @ Storefront Bushwick (16 Wilson Ave) 6-9pm, featuring the work of ten abstract artists, title refers to the Platonic dialogue whose subject is the death of Socrates and the immortality of the soul, RSVP
♦ Showpaper Retrospective @ Market Hotel (1142 Myrtle Ave) 7-9pm, FREE, a complete retrospective of every issue printed over the last 6 years – an awesome opportunity to view the ENTIRE SERIES chronologically, Performance by Ashcan Orchestra at 8pm
♦ The End of the Beginning @ Calico (67 West St #206) 7-10pm, Season wrap and fundraiser party, free beer, RSVP
♫ Polish American Folk Dance Company 75th Anniversary Party @ Warsaw (261 Driggs Ave) 8:30pm-2:30am, $10, Music, entertainment, hot buffet, raffles, cash bar, RSVP
♫ Darlings / Juniper Rising / A. Rex & J. Rex / King Prom @ Silent Barn (603 Bushwick Ave) 8pm, $8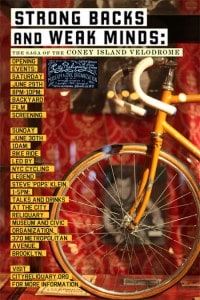 SATURDAY 6/29
• The Insalubrious Valley Walking Tour w/ Mitch Waxman (Grand St & Morgan Ave) 11am-2pm, $30, includes lunch, the currently undefended border of Brooklyn and Queens where the industrial revolution happened provides a dramatic and picturesque setting for this exploration, More info
# NYC Hog Days of Summer @ Domestic Construction (218 India St) noon-9pm, $30, Traditional North Carolina Whole Hog BBQ, Craft Beer Brewing & Heritage Pig Farming, Live Bluegrass, Benefits Just Food NYC, Buy Tix
♫ Endless Boogie / TV Baby / Degreaser @ Union Pool (484 Union Ave) 2pm, FREE
♫ First Annual Gay Pride Party @ Wythe Hotel (80 Wythe Ave) 8pm-1am, FREE, music from DJs Lauren Flax (Creep), Amber Valentine (Misster, Scissor Sunday), performances by Amber Martin, Tyler Ashley, & Merrie Cherry (Dragnet), free Greenhook Gin cocktails 8-9pm, proceeds donated to Without Walls, RSVP at wythehotel.com
♦ Classic Bike Film Screening @ City Reliquary ( ) 8pm-12am, Join Harry Schwartzman, curator of "Strong Backs, Weak Minds – the saga of the Coney Island Velodrome," for a screening of 2 classic films about 6-day racing – Joe E Brown's '6 Day Racer' and 'Open All Night' a scandalous 1924 silent movie set in the swarmy world of the 6 day racer, More info
They will be screened outdoors and refreshments will be available for purchase.
♫ Quiet Clubbing Outdoors @ CitiStorage (5 North 11th St) 8pm-2am, $40 in advance, $50 at door, live DJ performances pumped into headphones on the waterfront, RSVP
♫ Crazy Pills / Dead Stars / The Suicide Dolls / Haybaby @ Big Snow (89 Varet St) 8pm, $7
SUNDAY 6/30
* Birding and Intertidal Zone Tour @ NBBC Boat Club (49 Ash St) 9am-noon, $20, Did you know that creeping along in a canoe is the best way to view the intertidal zone and view a heron unruffled? More info
♦ Build 'Em Strong BBQ & Live Music YMCA Fundraiser @ The Cee Flat Gallery (988 Manhattan Ave 2nd Fl) 4-7pm, $20 at door, $15 in advance, an evening gallery experience and summer barbeque to benefit the work of the Ridgewood YMCA, More info
MONDAY 7/1
# Spaghett-It-On Mondays @ Adelina's (159 Greenpoint Ave) 5-8pm, $7, pasta with Roman style Marinara sauce and a genesee beer
* Greenpointers' Pick
♫ Music
♥ Pheremones likely
♦ Art Event
☺ Comedy Event
# Foodie Event
Category:

Events, What's Happening?
Tags:

art exhibitions, art show, birding, Brooklyn, comedy shows, community meetings, community workshops, events, food events, free events, fundraisers, gay pride, Greenpoint, greenpoint history, greenpoint tour, live music, Music, Newtown Creek, nyc wildlife, public meetings, sexual violence, tasting events
0 Comments