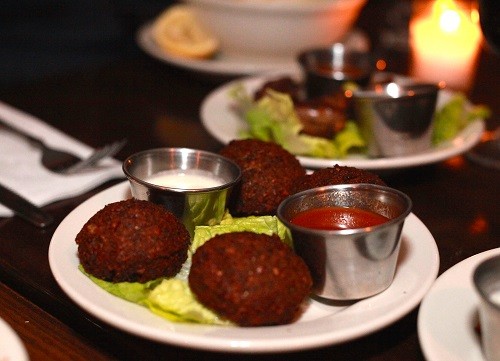 DAR 525 has opened its new location at 168 Driggs at Diamond, and it's a hit with Greenpoint. The cozy, aromatic spot has been smartly decked out with décor from owner Johan Fabiano Dawood's travels in the Middle East, and on a recent Friday night around 7:00 p.m., not a single table was empty. With its excellent prices and incredibly savory, well-spiced fare, it's easy to see why.
Greenpointers sat down with owner Johan over an incredible spread of nutty muhammara, cheesy pistachio flatbread pizza, and tender lamb kibbeh to discuss his new venture. Johan is warm, friendly and knowledgeable about food. A passionate eater, he goes out and tries a new restaurant in Greenpoint every day, so say hello to him if you see him out sampling a new spot in the neighborhood.
Read on to find out the secret that most people don't know about DAR 525's culinary heritage.