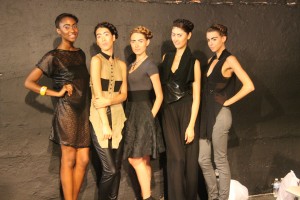 Williamsburg Fashion Weekend's founder, producer and creator Arthur Arbit is all about conscientious, ethical clothing made here in the USA, not in 3rd world countries.
His message was when you're shopping for clothes made in the corporate fashion world, someone's paying with their blood. But not these clothes…each piece of clothing featured in the shows was made by its designer's hands or otherwise American born.
Details and photos for each designer after the jump!
Category:
Style/Shopping
Tags:

bibiana, black cabinet, brittany erb, Brooklyn, designer, desira pesta, fashion, geary marcello, juanita cardenas, lyuba, marco santaniello, marcus hicks, mark tauriello, melissa lockwood, nathalie kraynina, Peter, photography, rhls, Ruffeo Hearts 'Lil Snotty, SDN, stephanie hinson, uta bekaia, uta brauser, Williamsburg
2 Comments