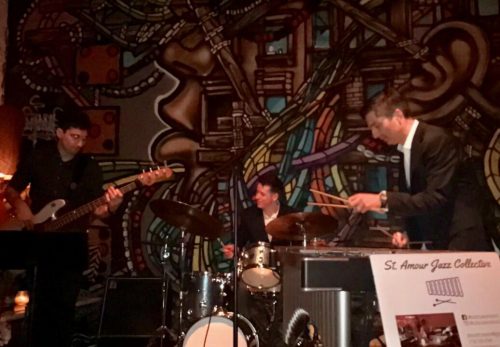 If I could spend the next six weeks of winter in one spot, it would be tucked in a cozy corner of FourFiveSix (199 Richardson Street) surrounded by the eclectic decor and art, absorbing the rhythmic musical stylings of the St. Amour Jazz Collective. On Sunday evening, the collective performed at the popular neighborhood jazz bar, offering a carefree alternative to Super Bowl festivities.
The St. Amour Jazz Collective features Jim St. Amour on the vibraphone, Luke Markham on drums, and Alex Heigl on bass guitar. It's St. Amour's passion project: a percussionist of 35 years, he made a natural transition to the vibraphone to start composing his own works.
"As a composer, I am inspired by the drum n' bass and neo-soul genres of music. The vibraphone is a beautiful instrument, and its range and percussive tonal characteristics really fit nicely with the harmony and melody of both styles of music," St. Amour said. He integrated the drums and bass guitar into his compositions, thus shaping the group's unique sound.
Markham has been a drummer for 19 years. He is well-versed in various genres and plays with a number of groups. When he plays, the drumsticks seem like extensions of his own arms. Both he and St. Amour also teach. Heigl was 15 when he started on the bass guitar. His initial genre was punk before classically training with a jazz bassist soon after. This was the groundwork for his success as an independent bassist. As a group, this trio feeds off each other's energy, talent, and love of music in an authentic way that makes for a spirited and contemporary live performance.