There were so many kinds of beautiful winter squash at the farmer's markets this week. Here is a visual guide plus some recipes for just some of the many varieties you can buy locally this fall and winter. Winter squash is packed with beta carotene, which is good for your eyes and immune system – so stock up and keep it interesting.
I snuck is some pumpkins at the end. After all, Halloween is coming up and someone will be demanding pumpkin pie.
What's the difference between a squash and a pumpkin? Not much. A better answer is the difference between gourds and pumpkins or squash. The gourd you just look at, while you can eat squash and pumpkins. And isn't that all we care about? Eating.
Australians use the terms squash and pumpkin interchangeably and most people think of squash as those soft summery zucchini-like vegetables with edible soft flesh, and pumpkins as the winter squashes, with harder flesh that is available in the colder months.
Genetically they all belong to the Curcubita family and some believe the tell-tale sign has to do with the stems.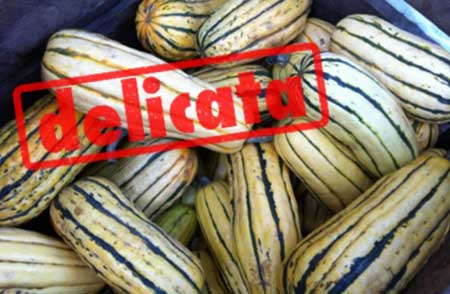 Delicata Squash belongs to the summer variety of squashes, like zucchini. It is not too sweet and the skin is super thin so you don't have to peel it. Since it is small it's great for a couples dinner or as a side if you're having guests. The seeds are pretty tasty for roasting, too.
• Chili Brown Sugar Delicata Squash With Pears
• Kale and Sausage Stuffed Delicata Squash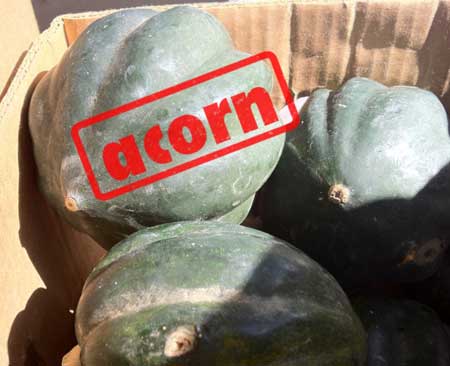 Acorn Squash – Good old acorn squash actually belongs to the summer squashes, too. It's the perfect size to serve as a bowl for soup. It isn't as rich in beta carotene as other squashes but is high in fiber and potassium. It can be stored for several months in a cool dry place.
• Penne with Acorn Squash and Pancetta
• Acorn Squash and Honey Pies Continue reading →