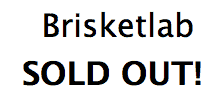 48 hours ago Daniel Delaney's paypal had a balance of $0. Since then he has sold 2500lb of brisket at $25/lb. Do the math. It's a lot of money to make in 2 days for someone when asked, "What do you do?" jokingly answered, "Nothing."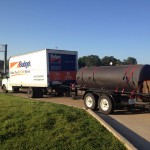 But Daniel, who started VendrTV, has been up to something called Brisketlab. After driving an 18ft smoker from Texas to Brooklyn, he devised a genius marketing plan with a "strong viral backbone" and essentially brisket mind-fucked everyone.
"I didn't disclose a lot of information… and the way that the copy was written, it was very lavish: 'I'm forming an underground smoked meat guild. I'm recruiting tallow loving carnivores.' It was very colorful. But also very ambiguous. That combination drove a lot of interest. Folks had a sense they had to shit or get off the pot. They had to act quickly."
I shat. Daniel used the fundraising platform Launch Rock. When I logged in there were 800lbs, the next day when the likes of Brooklyn Based and The Brooklyn Kitchen were tweeting all over it, only 7lbs were left, then none. As we ate biscuits at Marlow & Sons, Daniel received email after email from disappointed brisket lovers, "Is it too late?" For now, it is.
Don't worry, Daniel isn't stopping at 2500lbs and plans to open a restaurant in Brooklyn, so there will be plenty brisket for everyone. In the meantime he has corralled a drooling bunch of "brisketeers" who will be the first to taste and critique his brisket skills in 100lb increments at over 25 pop-up events over the summer, which he envisions "underneath bridges and on rooftops and on a boat."
Category:
Eat & Drink
Tags:

bbq, chef, cook, daniel delaney, Food, Interview, meat, pop-up, restaurant, smoker, southern food, texas
0 Comments