Receive What's Happening? via email!


There are more events in our weekly calendar. Submit Greenpoint events, too!
WEDNESDAY 4/24
☺Big Terrific Comedy Show @ Cameo Gallery (93 No. 6th St) 8pm, FREE, Roger Hailes/Kate Berlant/Shelby Fero and Melinda Hill, More Info
♥ Planned Parenthood Dance Party @ Public Assembly (70 N.6th St) 9pm, $10, Shake your booty and raise some money for Planned Parenthood of New York City, 100 % donated, RSVP
♫ Sky White Tiger @ Manhattan Inn (632 Manhattan Ave.) 10pm
THURSDAY 4/25
• Midwest Beer Night @ Barcade (388 Union Ave) Starting at 4pm, Celebrate the brewing process of the majestic Midwest, RSVP
• Victory Brewing Night @Brouwerij Lane (78 Greenpoint Ave) 6-10pm, Welcome the great Victory Brewing Company, includes a few special Craft Brewer's Conference beers, More Info
# Yummy Eats Mexican @ Diamond Bar (43 Franklin St) 7pm, $8-10 Ala Cart, See Menu
• Repo Man @Videology (308 Bedford Ave) 8:30pm, FREE, Screen a quintessential 80s cult film, Brooklyn Vegan's Bill Pearis hosts, drink specials, trivia, giveaways, RSVP
♫ Ice Choir / Eraas / Heavenly Beat / Tempers / Horoscope @285 Kent Ave, 8pm, $10, More Info
FRIDAY 4/26 (ARBOR DAY!)
♦ The Other Kind @ Pierogi Gallery (177 No. 9th St) Opening Reception 7-9pm, FREE, Artist Tony Fitzpatrick crafts relatively small works to hold a world of information, More Info
• Don't Have Red in Sight @ Janet Kurnatowsky Gallery (205 Norman Ave) Opening Reception 7-9pm, new paintings by James Biederman
☺Abemixture: We Hug Wood @Legion Bar (790 Metropolitan Ave) 7:30-9:30pm, FREE, In celebration of Arbor Day & National Hugging Day embrace the comedy of Sara Roan/Erin Lennox/Matt Ruby/Ross Hyzer/Mollie Roth/Corey Reppond and Chris Gardner, RSVP
♫ Weekend/Slander/Napoleon/Lodro @ Shea Stadium (20 Meadow St)8pm, RSVP
• Fake French Presents: Clinical Trials / Claire's Diary / Boy Toy / Big Quiet @ Silent Barn (603 Bushwick Ave) 8pm, RSVP
♥ Naked City w/Andy Pry + Keith Edward @ Over The Eight (594 Union Ave) 10pm-4am, FREE, Celebrate the opening of Over the Eight, dance, drink and be merry, RSVP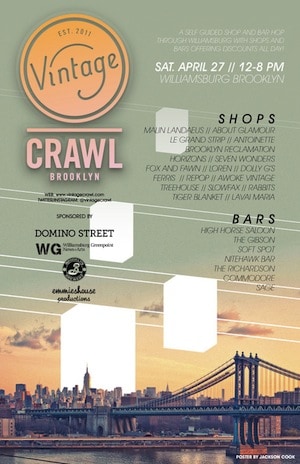 SATURDAY 4/27
*2013 Brooklyn Skillshare @ Gowanus Ballroom (55 9th St, Gowanus) 9:30am-10pm, $10 (suggested donation), sample clasess: Japanese Bookbinding / Make Your Own Ricotta / 596 Acres: How to Reclaim Vacant Public Land / Intro to Juggling / Bike Mechanics 101! RSVP
#Brunchtacular @ T.B.D (224 Franklin St) Noon-3pm, $30, 10 restaurants sample dishes, vote on who serves the best brunch in Brooklyn, unlimited mimosas, supports Greenpoint Reformed Church Food Pantry! More Info
* Brooklyn Vintage Crawl +After PArty @Various locations, Noon-8pm, A Shop and Bar Hop through Williamsburg & Greenpoint More Info
♫ If These Trees Could Talk / Signal Hill / No Grave Like The Sea @ Public Assembly (70 No. 6th St) 8pm, $10, RSVP
♫ The Hairs / Olson / Rydholm / and Forester / Pale Lights / Sapphire Mansions / Calico Cat @ Muchmore's (2 Havemeyer St) 8pm
SUNDAY  4/28
• Zaarly Bazaar @(50 No. 3rd St) 3pm, free foods, drinks, and $20 credit to use towards purchases with your favorite amazing storefront owners on Zaarly, More Info
• Cooperative Economic Exchange: Game Day @ NUTUREart (56 Bogart St) 3-6pm, Join The Brooklyn Torch and TimeBanksNYC for an afternoon of play exploring cooperative exchange, RSVP
• Greenpoint Pre-Apocalyptic Theatre Festival Preview Party @ Saint Vitus (1120 Manhattan Ave) 8pm-12am, FREE Start the night with an ace pair of subway troubadours and fall forward into a sea of performances by brilliant local artists, More Info
TUESDAY 4/30
# The Masters of Social Gastronomy Meet Their Sweet Tooth @ Public Assembly (70 N6th St) 7pm, FREE, Brooklyn's had a long relationship with sugar, from Domino Sugar Factory to the Navy Yard's love child Sweet n' Low, RSVP
*  Greenpointers' Pick
♫ Music
♥  Pheremones likely
♦  Art Event
☺ Comedy Event
#   Foodie Event
Category:

Events, What's Happening?
Tags:

art openings, beer, Brooklyn, Bushwick, comedy, community events, Concerts, dance party, events, food events, free events, Gallery Openings, Greenpoint, Music, nightlife, shopping, skillshare, Vintage, weekend, Williamsburg
0 Comments