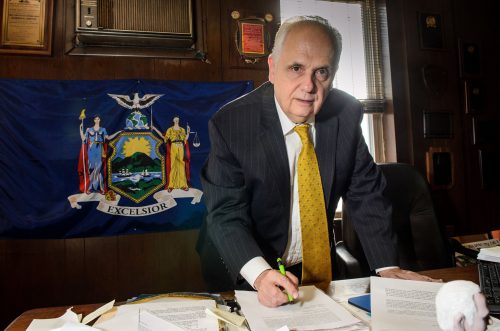 Following a meeting with volunteer victims advocate and Greenpointer Deborah Spiroff, State Assemblyman Joseph Lentol introduced The Safe Way Home Act this week, to provide sexual assault victims free transportation home from the hospital following treatment.
The budget would be provided through seized forfeiture funds from the district attorney's office and the NYS Division of Criminal Justice Services would be the program administrator.
Spiroff, who identifies as a survivor, has volunteered for the past two years at Wycoff Heights Medical Center in the Violence Intervention Treatment Program, working on call two to four days per month for 12 – 15 hour shifts. Volunteers like herself must go through training and a background check to volunteer their service to victims of sexual assaults.
"I've had more than one case where after the person has been treated they're just released, and they literally were walking home from Wycoff Hospital at 2 o'clock, 3 o'clock, 4 o'clock in the morning," Spiroff said. "And even if it's earlier in the day depending on where an assault may have occurred, it could have been near a subway; assaults happen everywhere. And frequently cell phones are stolen, wallets are stolen, metro cards are stolen, it's just a very overwhelming traumatic time."
Category:

Community, News
Tags:

Assemblymember Joseph Lentol, Brooklyn, brooklyn news, Deborah Spiroff, Greenpoint, greenpoint brooklyn, Joe Lentol, New YorkState, north brooklyn, Safe Way Home Act, sexual assualt survivors, Violence Intervention Treatment Program, williamsburg brooklyn, Willimasburg, Wycoff Heights Medical Center
0 Comments