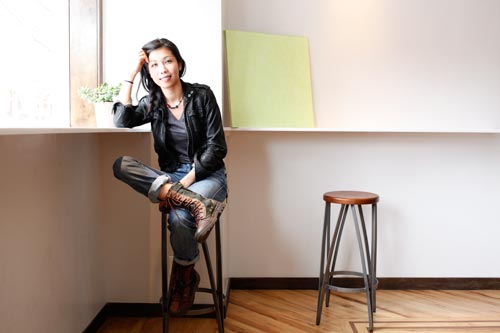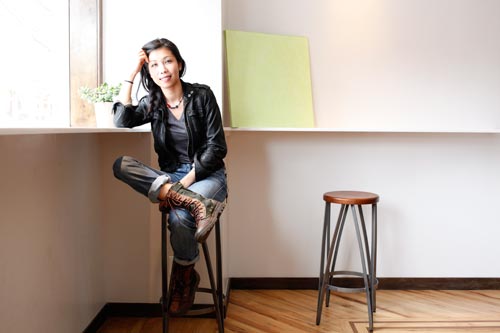 While on a daily Greenpoint exploration I stumbled into the recently opened, 3 Roots (159 Franklin St). Not only did I discover a deliciously fermented beverage similar to Kombucha called Jun served in 3 test tubes, I met former investment banking slash fashion world survivor Samantha Hew, who escaped the corporate world and found her purpose in opening a juice bar in Greenpoint.
I don't know if it was the Jun or the heart to heart with Samantha that left me with a pep in my step and a sense of inspiration. There is a particular electric-like quality in Samantha that I've noticed in others who risk it all and pursue their passion. And it's contagious.
Samantha chatted us about dietary choices and life:
Greenpointers: What is your favorite comfort food?
Samantha: My very own chicken soup. I put lots of spice and herbs so it's the best soup that you can buy anywhere!
Greenpointers: Why call it 3 Roots?
Samantha: I have two lovely sisters and we are three girls in the fam, hence the number three. As for Roots, that's just a kool sexy word and I want 3 'ROOTS' to be the place where my life can begin to unfold and grown deeply as a woman.
Greenpointers: What was life like before 3 Roots? Why open a health cafe?
Samantha: I was in the corporate world, slaved for several fashion companies and investment banks, ten years of my life doing something I didn't enjoy doing at all. Why not a health cafe? I have a culinary degree from the famous French Culinary Institue, 2005. My heart has always been with food and the kitchen.
Greenpointers: Is there a specific dietary philosophy behind 3 Roots?
Samantha: I believe in moderation and balance. There is no one diet for anyone, much less one way to do anything in life. Simply put, you feed your body what it needs, it gives you what you want and 3 Roots is here to create that partnership. You and your body.

It is a big world out there. I am always inspired by all different kinds of cultural diets from French to Indian. 3 Roots definitely has ayurvedic influence, thanks to the manager of 3 Roots, Jess Lee. She has taught me all about ayurvedic teaching. Continue reading →