Looking to break out of the usual Smorgasburg / Mermaid Parade pattern this weekend?
Out in the Rockaways tonight (6/17), ukelele master Lorena Leigh leads a music jam at sunset around a campfire.
Bring your bathing suit for a dip at dark. Or, a guitar for the campfire songs.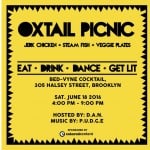 Saturday (6/18), if the Mermaid Parade seem too far afield, the Oxtail Picnic in Bed-Stuy has oxtail stew, steam fish, and a backyard bash where the crowd is "not too stoosh to shake their ass on the dancefloor," as the event's Facebook page puts it. Esteemed DJ P.U.D.G.E. presides.
Details for both events, and how to get there, inside. Continue reading →
Category:

Art/Music, Culture
Tags:

Campfire Fridays, DJ P.U.D.G.E., Jacob Riis Park, Lorena Leigh, Mermaid Parade, Oxtail Picnic, rockaways, smorgasburg, soca, ukelele
0 Comments