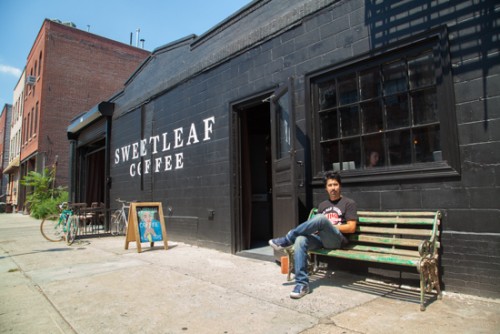 You know those times when you don't set out to do something, but somehow it just happens anyway? Well, this is pretty much how Sweetleaf, Greenpoint's newest coffee shop, came about.
"I wasn't looking to set up another cafe", says owner Rich Nieto, "I was just looking to find a space to roast."
Rich established Sweetleaf Coffee with a friend in 2008, in a tiny shop just over the Pulaski bridge.  Seven years later and there is now an additional coffee shop in LIC, one in Williamsburg and, as of last week, a new one in Greenpoint. Rich bought out his partner about a year ago and now runs the entire operation.  He recently  started roasting his own beans out of a friend's loft in Bushwick, but as he started to step up production it made sense to find a roasting space of his own.
"I was looking for a warehouse of around 1000 sq ft, but it was almost impossible to find something this small, everything is huge", he tells us as we sit sipping coffee in the brand new Greenpoint outpost of Sweetleaf on Freeman Street. "I discovered this space because I used to drive past every day on my way between LIC and Williamsburg, and although it turned out to be the smallest warehouse space I could find, it was still way more space than I needed. The building is in a great location, just off  Manhattan Avenue, so we decided to use the extra space by creating a cafe at the front and having our roastery at the back." Continue reading →