There are more events in our weekly calendar. Submit Greenpoint events, too!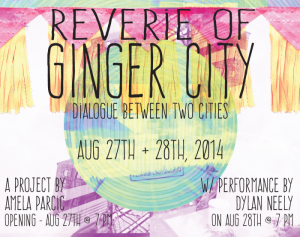 WEDNESDAY 8/27
* Reverie of Ginger City: Dialogue Between Two Cities @ Flux Factory (39-12 29th St) 7pm, FREE, Amela Parcic presents double-exposure photographs of Santiago, Chile, and New York City, More info
☺Adelina's Comedy Night @ Adelina's (159 Greenpoint Ave) 10:30pm, FREE, With Brooke Van Poppelen, Rose Luardo, Brett Davis, and more, RSVP
Category:

Events, What's Happening?
Tags:

7 Dunham, adelina's, bar matchless, Brooklyn Night Bazaar, bushwick vendors market, crown victoria, electric zoo, Festival de Cine, flux factory, Glasslands Gallery, jo firestone, lp & harmony, lyynks music, Output, queereoke, Rinsed.it, Silent Barn, the secret loft, The Wick, Videology
0 Comments