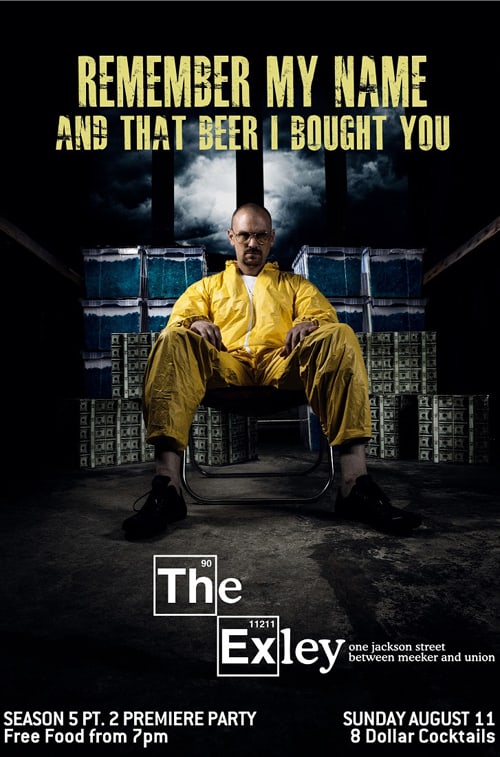 (Sponsored)
•  Breaking Bad Premiere Party @ The Exley (1 Jackson St.) Screening Party Sunday (8/11) 7pm, FREE BBQ at 7pm, $8 Blue Cocktails, try the Saul
Goodman Old Fashioned, Showtime at 9pm, Music before and after by O Paradiso, Lead up to showtime involves a round-robin cornhole tournament, RSVP
Receive What's Happening? via email!

There are more events in our weekly calendar. Submit Greenpoint events, too!
WEDNESDAY 8/7
♥ Speed Screening @ McCarren Park (Bedford & No. 12th) 6pm, FREE, Screening begins 8pm, Music by Dope Body / Hubble / GDFX
♫ Lawrence Rothman / Gambles / Vows @ Glasslands (289 Kent) 8:30pm, $10
♫ Sharkmuffin / Shark is typing… / Shark Boy / Shark Water @ The Living Gallery (1087 Flushing Ave, Bushwick) 9pm, $5, Yeah, Shark Week!
♫ Sky White Tiger @ Manhattan Inn (632 Manhattan Ave) 10:30pm, FREE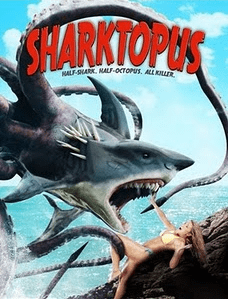 THURSDAY 8/8
•Kevin & Matt Geek Out About Shark Movies! @ Videology (308 Bedford Ave), 8-10pm, $10,  Celebrate Shark Week with comedian, Kevin Maher, and Greenpointers contributor/filmmaker, Matt Glasson, as they present a multimedia tribute to the best of the best SHARK MOVIES, from Jaws to Sharknado, RSVP
•Rooftop Films Presents: Twelve O'Clock Boys @ Automotive High School (50 Bedford Ave), Doors at 8pm, Screening at 9, $13, An urban coming of age tale about the notorious Baltimore dirt bike pack, part of Rooftop Film's SXSW weekend. After party at Matchless, More info
♦ Gale City Greetings @ Southfirst (28 Frost St.) 7-9pm, FREE, Opening reception for Audra Wolowiec's sound-sculpture installation and Alissa Blumenthal's drawings series as part of the REVERSE SUMMER LAB shared-residency program, RSVP
♫ As / W-H-I-T-E / Yvette / Alan Watts @ Death By Audio (49 S.2nd St) 8pm, $7
♫ Hunx and His Punx @ 285 Kent  8pm, $12
♫ Jane Eyre / Quiet Loudly / Wilder Maker @ Europa (98 Meserole Ave) 9pm, $10
FRIDAY 8/9
♦ Magistrates of Marzipan @ The One Well (165 Greenpoint Ave), 7-10pm, FREE, opening reception for a series of drawings and paintings by Sarah Intemann RSVP
♦ Correspondence II @ TSA (44 Stewart Ave, Bushwick), 7-10pm, FREE, Group show opening, exhibiting work from emerging Philadelphia artists. More Info
♫ Lordo / Life Size Maps / Haybaby / Hippy / The Gradients @ 285 Kent, 8pm, $10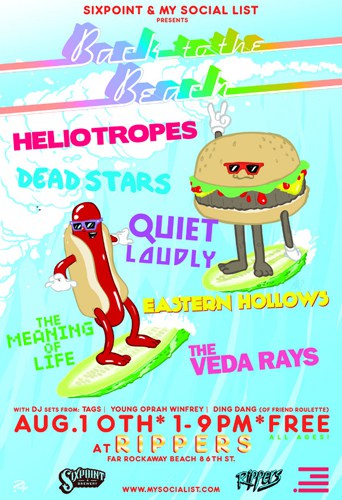 SATURDAY 8/10
♫ Back to the Beach @ Rippers (Rockaway Beach 86), 6pm, Free, Live jams from Heliotropes / Dead Stars / Quiet Loudly / Eastern Hollows / The Meaning of Life / The Veda Rays with Rippers burgers and Sixpoint beer. Rockabus has added late night busses at 10pm to take you home!
• Mind Body and Roll BK @ Brooklyn Fireproof (119 Ingraham Street) 3-10pm, Skate Truck NYC will host an outdoor pop-up roller skating rink, accompanied by disco, DJ's, kimchi burgers, and dance/wellness workshops. Bring Your Own Skates (BYOS) or $10 rental, RSVP
♥ Cycle Pop Mystery Tour @ secret location TBA 4pm, $29, Join Get Up and Ride for a biking scavenger hunt (with "obscure poetry clues") in hidden spots all around North Brooklyn. Tour ends with an electropop dance party at the Knitting Factory.  Sign up and don't forget your bike!
#Sweat it out! Vegan Shop-Up! @ Pine Box Rock Shop (12 Grattan St.) 12-6pm, FREE, Celebrate August heat with NYC's only all vegan pop-up market, featuring artisan food and wears
♫ North Highlands / Brazos / Chalk And Numbers @ Glasslands (289 Kent) 8pm, $10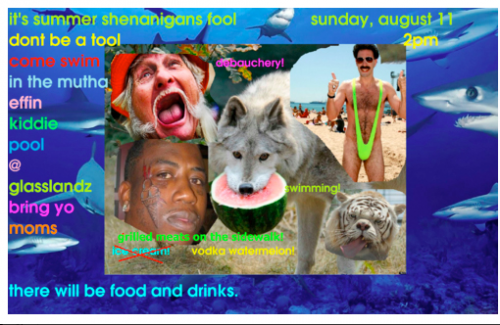 SUNDAY 8/11 
♥Summer Shenanigans Party! @ Glasslands (289 Kent Ave) 2pm, FREE, Vodka watermelons, sidewalk BBQ, and a KIDDIE POOL! You had us at kiddie pool. RSVP
♫ Solarists / Andrea Parkins / Weasel Walter & Elliott Sharp @ Death By Audio (49 S.2nd St) 8pm, $7
MONDAY 8/12
• Trivia Night @ Boulevard Tavern  (579 Meeker Ave), 8-10pm, FREE
☺NYC Broken Comedy @ Matchless (557 Manhattan Ave), 8:30pm, FREE, Comedy showcase featuring established and up-and-coming comics. Past performers have included Aziz Ansari, Hannibal Buress, Judah Friedlander. More Info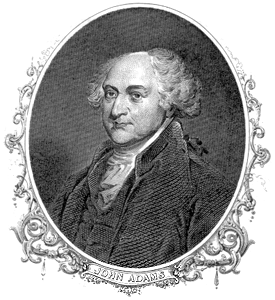 TUESDAY 8/13
*Community Board 1 Public Meeting Re: Greenpoint Landing @ Automotive HS (50 Bedford Ave) 6:30pm, More info
• S.A.S.S. Presents: Presidential Bad Asses @ Cameo (93 N. 6th St), 7-9:30pm, Nostalgic for 6th Grade History Class? Join the Society for the Advancement of Social Studies for a booze-fueled debate to select the "Most Bad Ass" President, (Will it be Adams, Jackson, and Roosevelt?)  You decide. RSVP
♫ Music
♥ Pheremones likely
♦ Art Event
☺ Comedy Event
# Foodie Event
Category:

Events, What's Happening?
Tags:

Brooklyn, Bushwick, cheap events, Concerts, film, free events, Greenpoint, Greenpoint Events, live shows, music shows, parties, premiers, screenings, weekend, what's happening, Williamsburg
1 Comment