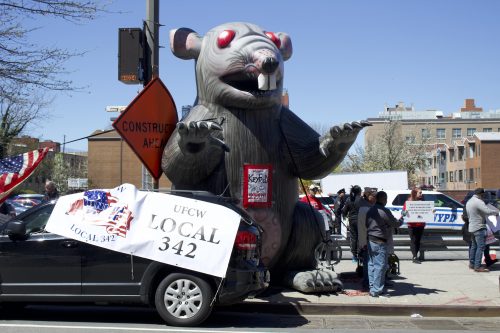 "What?" yelled Kelly Eagan, director for Local 342, a union representing meat department workers in Brooklyn and Long Island.
"Contract!" replied the chorus of locked-out workers.
"When?"
"Now!"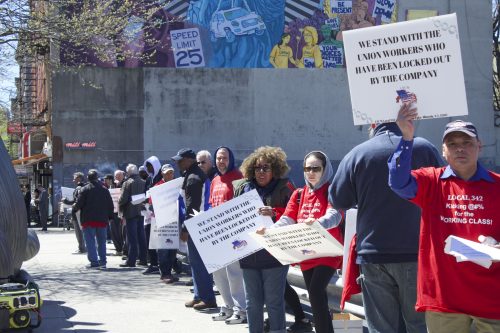 Butchers, meat wrappers, and meat clerks rallied in front of the Park Slope Key Food on Baltic Street and Fifth Avenue yesterday afternoon to demand a new contract from Pick Quick Foods Inc., owner of seven Key Food groceries in Brooklyn and Long Island. Despite negotiations that Monday evening, management and the union have still failed to broker a new agreement, said Keeley Lampo, a union representative.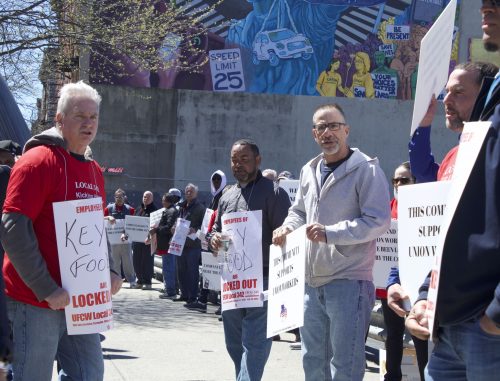 The lockout began April 6th in retaliation against union workers' short-lived strike to protest what was deemed a "gutted" contract offer from the Pick Quick Foods owner, Benjamin J. Levine.
Members have begun to feel the pain of more than a weeks-long lockout. While her finances aren't yet dire, Bronx resident Bonnie Alarcon cares for a family of four and her 76-old mother.  "It's horrible I have to be here after so many years," she lamented. Continue reading →