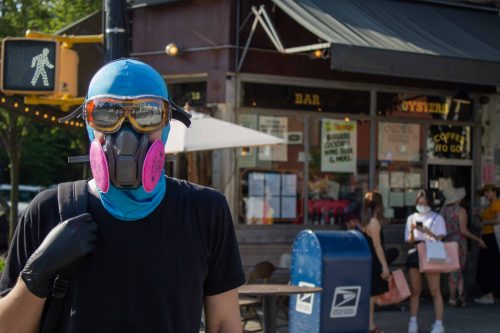 Riley Goodside, 33, woke up early on the brisk morning of March 15th and was "disgusted."  
Just four days earlier, the World Health Organization had formally declared COVID-19 a pandemic, but many people in New York City were milling about maskless in the streets, seemingly unaware that 329 people had tested positive for the coronavirus in the city alone.
"I saw this perfect storm brewing," he said in an interview with Greenpointers. 
While his fiancée was still sleeping, he slinked out of bed and donned his elastomeric respirator, slipped on black nitrile gloves and strapped on clear, indirect-vent goggles. He then trudged over to the northern entrance of McCarren Park, where a number of Sunday brunch-goers were enjoying what would be their last mimosas out for months.
In full regalia, he stood in quiet protest. A photographer then snapped a photo of him and the impromptu sign he was carrying made out of an Amazon delivery box. 
It read: "CANCEL BRUNCH."
That photo inaugurated Goodside's rise as the pandemic poster child of the city. His signature getup—part theater, part protection—has graced social media and accompanied articles published across the country, from Miami to Alaska. Goodside's image traveled internationally, too, appearing in publications based in El Salvador and Tajikistan.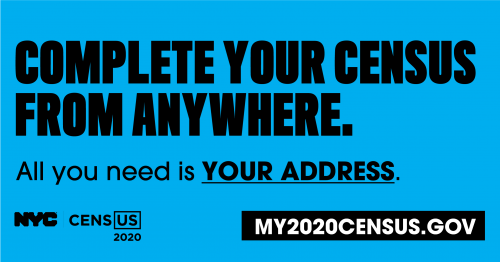 Before his post-apocalyptic garb earned him international recognition, Goodside, a programmer who specializes in machine learning, explained that his accumulation of a wardrobe of personal protective equipment (PPE) began as an experiment.  Continue reading →
Category:

Community, News
Tags:

Brooklyn, coronavirus, covid-19, Greenpoint, greenpoint brooklyn, pandemic, PPE, Riley Goodside, social distancing, Williamsburg, williamsburg brooklyn
0 Comments