Receive What's Happening? via email!


There are more events in our weekly calendar. Submit Greenpoint events, too!
WEDNESDAY 4/17
♫ And The Witch / Heliotropes @ Europa (98 Meserole Ave) 8pm, $12, Heliotropes is back to BK after a cross country tour! More Info
♫ Rama / Special Guest / Teams / Sleep Over / Splash @285 Kent, 8pm, $12, This show will be filmed for an Intrepid Fox Production, so dress for the big screen! RSVP
☺The Regular Comedy Show @ The Creek & The Cave (10-93 Jackson Ave, LIC) 10-11:30pm, FREE, More Info 

THURSDAY 4/18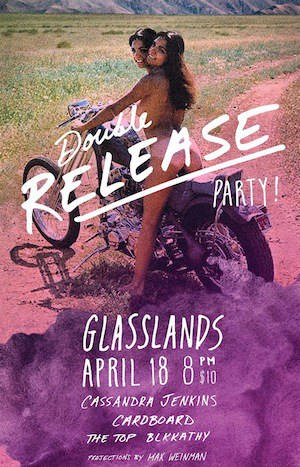 • Nomadic Sojourns @ Word (126 Franklin St) 6:30-7:30pm, a publishing collective "of staid movement," presents a night of socially-conscious readings from its annual journal and music, RSVP
♦Lester Goldman: High Wire @ The Dobbin Project Space (50-52 Dobbin St.) Opening Reception 6-9pm, FREE, Electric colors, sweeping lines, personal and political symbols, and a variety of media from sculpture to performance.
♫ On An On @Knitting Factory (261 Metropolitan Ave) 8:30, $12 More Info
♫ Jenkins/Cardboard/The Top @ Glasslands (289 Kent Ave) 8:30pm, $10, Double album release party! RSVP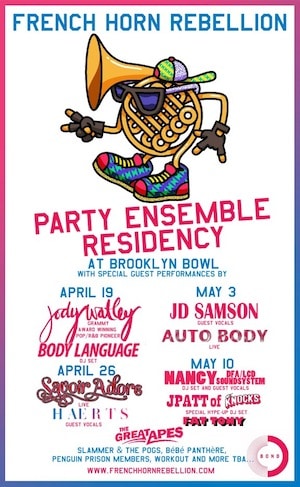 FRIDAY 4/19
♦Marty's Cool Biennial @Heliopolis (154 Huron St) 7-10pm, FREE, The space's first annual benefit show featuring donated works 100% of the profits going to  funding the space, RSVP
♦Cashing Out @ NURTUREart Gallery (56 Bogart St, Bushwick) 7-9pm, FREE,  features artists' musings on our current financial system and their creative proposals for establishing alternative economies, More Info
♦Chez Bushwick Presents: Romanian Dance History VII @ Center for Performance Research (361 Manhattan Ave) 7:30pm, $12, In two days artists from around the world will perform dances Choreographed by Brynjar Bandlien, RSVP
♫ Horn Rebellion Party Ensemble @ Brooklyn Bowl (61 Wythe Ave) 11pm, This 4 weekend residency kicks off with special guest: Jody Watley / Body Language / Savoir Adore / Ernesto, RSVP
SATURDAY 4/20
•4/20 Brooklyn Music Video Festival @ Ivy House Studios (1040 Metropolitan Ave) 3:30-11pm, $6, A celebration of the craft of music video making, learn about the production, art, and business side of music videos, forum for video makers to network, RSVP
♫Spring Fever Festival @Secret Project Robot (389 Melrose St) 3-8pm, $15 music by Quintron / Black Dice / K-Holes, BBQ, open studios, RSVP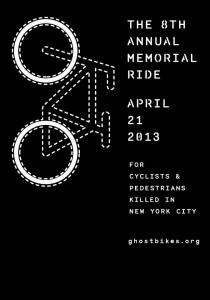 SUNDAY  4/21
• Troop 2822 Girl Scouts Sell Cookies @ Five Leaves (18 Bedford Ave) 10am-2pm
• Ghost Bike Memorial Ride @ All Over NYC, noon-5pm, brings New Yorkers together to remember pedestrians and cyclists killed in our city over the past year, bring flowers and other items to honor those lost, RSVP
• Earth Day BBQ/Potluck @ Java St Garden (59 Java Street), 3-6pm, $10 suggested donation, Celebrating Earth Day with the Greenpoint community is invited, there will be fun and food for everyone,bring your favorite dish to share
•Free Spring Bike Tuneup @Diamond Bar (43 Franklin St) 3-7pm, FREE, pop-up bike shop, with Silk Road Cycles, we'll provide tools, a stand or two, and a parts-washing station; you just bring your bike, ready for love, More Info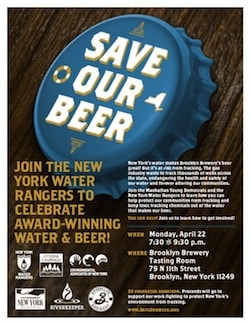 MONDAY 4/22
• Save Our Beer @Brooklyn Brewery (79 N 11th St) 7-9:30pm, FREE, learn more about
the dangers of fracking,  RSVP
• Trivia Night @ Boulevard Trivia Night (579 Meeker) 8-10pm, FREE, Test your knowledge and win prizes, fun to had! More Info
TUESDAY 4/23
☺The Trap @ Pete's Candy Store (709 Lorimer St) 8pm, FREE, Nate Fernald/Kerryn Feehan/The Lucas Bros/Kelly Fastuca/Jason Saenz RSVP
• Collector's Night @ Brooklyn Brewery (79 N. 11th St) 8-10pm, $15 (includes a beer), All funds raised benefits the City Reliquary
*  Greenpointers' Pick
♫ Music
♥  Pheremones likely
♦  Art Event
☺ Comedy Event
#   Foodie Event
Category:

Events, Uncategorized, What's Happening?
Tags:

art openings, bands, Brooklyn, Bushwick, community events, events, free events, fundraisers, Greenpoint, live music, nightlife, weekend, Williamsburg
1 Comment