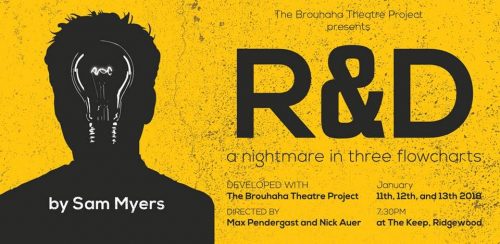 Reversible floor tiles. Sleeve Me Alone. A pencil that's also jerky.
Practical or utterly useless, these are a small handful of the colorful pitches in Brouhaha Theatre Project's upcoming R&D: a nightmare in three flowcharts. And while these may seem the stuff of Call-Now-and-Save infomercials aimed at sexagenarians comfortable in their recliners, they originate from the fresh minds of one of Brooklyn's youngest and most promising theater companies.
"R&D is basically a portrait of a team of Young Professionals who leave everything behind to devote themselves to this crazy startup called BrainSoul," said Sam Myers, one of Brouhaha's five company members and R&D's playwright.
R&D (as in "research and development") overflows with exhausting and all-too-familiar corporate jargon that is ripe for comedic satire. Office lingo like "impressive stapling work" and "on the same page" are often tossed around. Somehow, outside of the workplace and inside the theater, these phrases feel like poisonous earworms, which may be the point. 
"Over the course of the play, the YoPros' enthusiasm for the company becomes more and more cultish," Myers said. "It's an office comedy that tries to push the toxic insularity of work life to a really extreme place."
The show debuted last year at Dixon Place in Manhattan and now comes to the basement of Bushwick/Ridgewood's The Keep (205 Cypress Avenue), a bar with as much spunk and funk as Brouhaha's latest project.