(sponsored)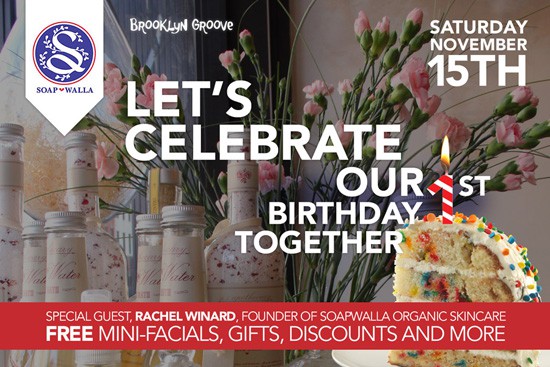 Can you believe it has been one year since Brooklyn Groove (102B Nassau Ave) opened in Greenpoint? It's been said that retail stores are disappearing and soon everything will be delivered by drones. This might is true for computer parts, but not for beauty products. Brooklyn Groove's customers want to touch, smell, sample and talk about their skincare products with the added benefit of making friends at the store's fun events. (Last time I checked drones are not BFF material.)
Brooklyn Groove sells the best quality beauty products because it searches for hard to find, organic, natural cosmetics. They knows your health is important to you, which is why they offer the most pure and unprocessed skin care products you can find anywhere. The selection is growing and now they carry the best organic lines on market such as: RMS Beauty, Vapour Organic Beauty, Dr. Hauschka, REN Skincare, CV Skinlabs, Sopwalla, 100 % Pure, S.W. Basic, Griffin Remedy, Ecobrow, Angel Face Botanicals, Meow Meow Tweet, Badger, Acure. And next week they will be receiving Intelligent Nutrients.
Celebrate Brooklyn Groove's 1 Year Birthday this Saturday, November 15th. They will offer FREE mini facials with Dr. Hauscha products from 12-3pm. (Please book in advance.) Special guest Rachel Winard, the founder of Soapwalla, will be in the store talking about her inspiration for her organic skincare line after quitting her corporate job to start her own business. If you haven't tried it, her natural deodorant is a bestseller!
And don't forget the complimentary wine, free makeup consultations and real people.
See you there!
Sponsored post courtesy of Brooklyn Groove.
Category:

Events, Style/Shopping
Tags:

beauty, brooklyn groove, cosmetics, event, greenpoint shopping, health, make-up, manhattan ave, natural, organic, shopping, skincare, women
0 Comments