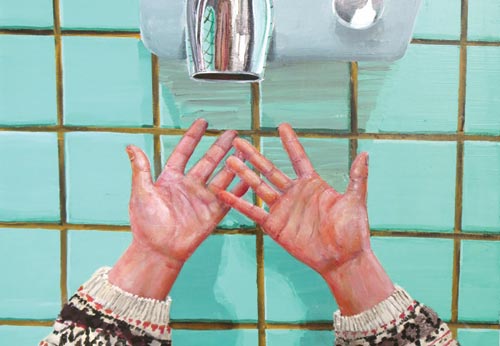 (Sponsored)
•  Window Facing Inward @ Active Space (566 Johnson Ave, Bushwick) Opening Reception: Saturday (8/3) 7-10pm, FREE, Hilary Doyle's recent work is centered around often unnoticed objects and moments in our daily lives. Doyle's paintings calls reality into question—some objects may appear real from afar and upon closer inspection, look wobbly, hand-made, and even grotesque, More info
Receive What's Happening? via email!


There are more events in our weekly calendar. Submit Greenpoint events, too!
WEDNESDAY 7/31
♥ Red Hook Firefighter Cook-Off @ Fairway (480-500 Van Brunt St) noon-3pm, FREE, Teams of firefighters will compete to see who can cook the best BBQ!
♥ Goonies Screening @ McCarren Park Summer Screen (Bedford & No. 12th) 6pm, FREE, Screening begins 8pm, Music by Hector's Pets / The Numerators / Juniper Rising
♫ Melvins / Baroness / Honky @ House of Vans (25 Franklin St) 7pm, FREE
☺ Heavy Metal Laser Plane Comedy Show @ Legion Bar (790 Metropolitan Ave) 8pm, FREE, RSVP
♫ M. Ward / Kami Lyle Trio with Joey Spampinato & Tad Price @ Union Pool (484 Union Ave) 9pm, $15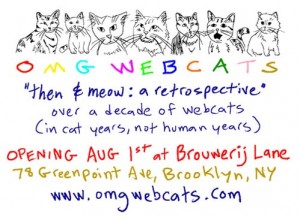 THURSDAY 8/1
♦ OMG Webcats: A Retrospective @ Brouwerij Lane (78 Greenpoint Ave) Opening Reception 7-10pm, Arwork by Scott Chasse, OMG Webcats regurgitates mundane yet humorous internet chatter in the form of simple text blurbs along side a seemingly never-ending supply of line drawings of cats, RSVP
♫ Manawi Thorn / Oneironaut / Black Smoke / Alcian / Look a Fang @ Bar Matchless (557 Manhattan Ave) 8pm, $8, RSVP
♫ The Love Language / Eternal Summers / Nightdogs @ Glasslands Gallery (289 Kent Ave) 8pm, $10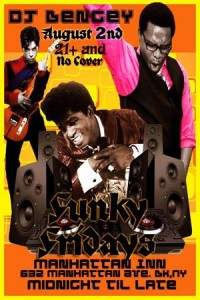 FRIDAY 8/2
♦ To Paint With Fire @ Gallery 1205 (1205 Manhattan Ave, #241) Opening Reception 6-9pm, works by Jennie Jieun Lee and David Bratton, two Greenpoint-based artists who both mix the materials and processes of painting and ceramics, Curated by Ulrika Strömbäck
♦ Pop-Up: The Art of Johnny Rizzo @ Bunny Cutlet (158 Roebling St) 7-10pm
♦ Rural Route Festival Begins @ Museum of Moving Image (36-01 35th Ave, Astoria) 8pm, highlights works that deal with unique people and places outside of the bustle of the city, thru Sunday 8/4
♦ A Summer's Tale Screening @ Transmitter Park (Greenpoint Ave & East River) 8:30pm, FREE, More info
♫ Tijuana Panthers / Le Yikes Surf Club @ Knitting Factory (361 Metropolitan Ave) 8pm, $10
♫ DJ Bengey Asse's Soul & Funk Dance Party @ Manhattan Inn (632 Manhattan Ave) Midnight, Free, RSVP

SATURDAY 8/3
♦ As You Like It by William Shakespeare @ McGolrick Park, 3pm, Free, Bring the kids, pooch and a seat
♥ Blood Drive @ Williamsburg Church (231 Ainslie St) 11:30am-4pm
♫ Wildflower Music Festival @ 106 Emerson Pl, Clinton Hill, 3-11:30pm, Happy Lives / Fan Tan / Ghostess / The Meaning of Life / Spirit Plate / Dog Water / Clouty / Rae and Adam James / Sullied Accolades, RSVP
• Kickstarter Film Festival @ Havemeyer Park (So. 3rd bet. Kent Ave & Wythe Ave) 7pm, FREE, selections from some of our favorite features, docs, shorts, animations, and works-in-progress from the past year, all funded on Kickstarter
♦ Window Facing Inward @ Active Space (566 Johnson Ave, Bushwick) Opening Reception 7-10pm, FREE, see above description, More info
♫ Jay Arner / Suā / Sweethearts @ Coco66 (66 Greenpoint Ave) 8pm, $7, More info
SUNDAY 8/4
♦ As You Like It by William Shakespeare @ McGolrick Park, 3pm, Free, Bring the kids, pooch and a seat
♦ Find Waldo Party @ Word (126 Franklin St) 3pm, after searching for Waldo all over Greenpoint in July, children and families are invited to enjoy snacks, drinks, and prizes
♥ Terrarium Class with Claire "Succulents Edition" @ Brouwerij Lane (78 Greenpoint Ave) 5-7pm, $50, includes all plants and material plus a beer, 4 tix left
• Wet Legs / Judson Claiborne / Dead Painters @ North Brooklyn Boat Club (49 Ash St @ McGuinness) 6-9pm, Free, RSVP
• Sunday Supper #8 @ North Brooklyn Farms (Havemeyer Park) 7-9pm, $45 – SOLD OUT
♫ Roots 66 Live Reggae Party with Radicators / Daredevil @ Coco 66 (66 Greenpoint Ave) 7-11pm, RSVP
MONDAY 8/5
• Surf and Health Workshop @ [email protected] (33 Nassau Ave) 6:30-8pm, $20, learn surf specific exercises, basic sports nutrition, how to look after your body so you can surf better and keep surfing forever, email info at humanatease.com
♫ Music
♥ Pheremones likely
♦ Art Event
☺ Comedy Event
# Foodie Event
Category:

Events, What's Happening?
Tags:

art exhibitions, art openings, art shows, astoria, brooklyn art, brooklyn comedy, brooklyn music, brooklyn music venues, Bushwick, cheap events, classes, clinton hill, comedy, events, film festival, free events, fundraisers, greenpoint art, greenpoint music, health, jen g, musical festival, nightlife, pottery, Red Hook, screenings, weekend, wellness, what's happening, Williamsburg, workshops
0 Comments