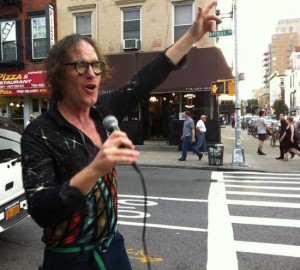 I have two words: original hipster.
While on the cheapest date ever ($13 groupon at Crif Dogs worth $28 – aka a shit ton of hot dogs), a nearing-hobo-status looking man walked in and asked the lovely server to turn off the music and give him a flattened cardboard box. Is he going breakdance? I wondered. We put down our corn dogs and held off on our cheese fries for a minute, but nothing happened.
As we walked outside, we overheard the man tell the server that he was waiting for the cops who were inside eating hot dogs to leave before he would start. Knowing that might take a while, we decided to walk off the dogs.
Stuffed beyond comprehension and so unreasonably affected by our fullness, we popped into Momofuku Milk Bar and tried a boozey rum spiked Chocolate Covered Pretzel Shake. Sometimes you actually are in heaven. There is "cereal milk" (the crispy, crunchy, mushy milk at the bottom of your cereal) in it! But that wasn't dessert.