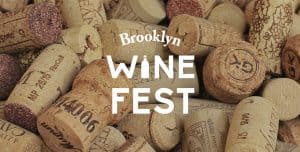 The Brooklyn Wine Fest returns to Greenpoint this Saturday, October 28th in the Brooklyn Expo (72 Noble St) with unlimited samples of over 100 styles of wine from around the world, paired with live entertainment, food and interactive games!
Choose from two 4 hour sessions and don't forget to Use the Code GREENPOINTERS at check out to receive $25 off the ticket! (sponsored)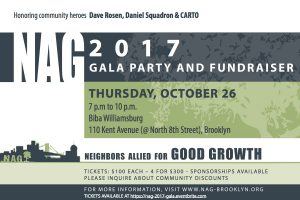 The seventh annual Neighbors Allied for Good Growth (NAG) gala celebrates the 23 year history of advocacy on behalf of the North Brooklyn community on issues of environment, open space and public planning this Thursday, October 26th, 7pm to 10pm, at Biba Williamsburg (110 Kent Avenue). This year NAG has partnered with the Greenpoint Waterfront Association for Parks and Planning (GWAPP) to develop a strategic plan for the creation of a new, larger community civic association. The gala is . Tickets start at $100, with sponsorship opportunities starting at $500 and up. 4 tickets for $300, discounted tickets can be made available. (sponsored)
**Looking for all the Halloween parties? Check out our roundup.
Looking for anything non-Halloween? Keep on scrolling!**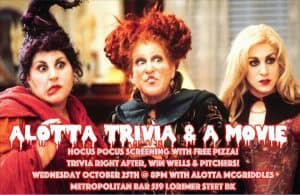 WEDNESDAY 10/25
♫ Maryla Rodowicz @ PSFCU (100 McGuinness Blvd), 5pm, FREE, Legenda polskiej muzyki rozrywkowej spotka się ze swoimi fanami/The legendary Polish singer & actress is stopping by Greenpoint to meet her fans, More info
# White Wine + Cheese @ Bedford Cheese Shop (265 Bedford Ave), 6pm, $60, An educational adventure into the practice of pairing – and an introduction into how milk makes cheese, how grapes make wine, and how to make the most of the pairing possibilities, Buy tix
♫ Cocomo Presents: Noia / Elsz / Evan Ønly @ North Brooklyn Farms (320 Kent Ave), 7pm, $5-$10 suggested, More info
♫ Willie Watson and Colter Wall @ Rough Trade (64 N 9th St), 8pm, $20, Buy tix
* Alotta Trivia & a Movie – Hocus Pocus @ Metropolitan Bar (559 Lorimer St), 9pm, FREE, Watch a screening of Hocus Pocus with trivia right after with Alotta McGriddles!!! Win Pitchers or Wells for every round and Free Pizza!!!, More info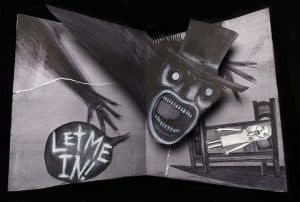 THURSDAY 10/26
♦ PAFF x Alexi Lubomirski Present: Young Poland @ A/D/O (29 Norman Ave), 6pm, FREE, Curated by Alexi Lubomirski, Young Poland will serve as an insight to the next generation of accomplished photographers born in Poland in the 1980s and '90s, More info
☺ Sad, Sad 🙂 – Talking Comedy and Depression @ Muchmore's (2 Havemeyer St), 6:30pm, FREE, Gregory Uzelac moderates an inciteful and darkly funny discussion with fellow NY comedians to talk about their own experiences with mental illness and how that translates into humor on stage, More info
* Medicinal Mushrooms: Healing Body, Soul, & World @ Root Mamma (236 Richardson St), 7:30pm, $20, Fungi are the web that weaves us all together! Join us to learn about the amazing, multi-faceted healing aspects of mushrooms and fungi, considered by many to be our most intimate allies, Buy tix
♫ Stefan Zeniuk and Green Mambo @ Threes Franklin + Kent (113 Franklin St), 8pm, FREE, A steamy, goofy, and fun night of old-school mambos, with the occassional cha cha cha, rumba, and psychedelic jungle trance, More info
♦ Independent Women: The Babadook @ Videology (308 Bedford Ave), 9:30pm, $12, A widowed mother (Essie Davis), plagued by the violent death of her husband, battles with her son's fear of a monster lurking in the house, but soon discovers a sinister presence all around her. Costumes are strongly encouraged, Buy tix
Continue reading →
Category:

Events, What's Happening?
Tags:

A/D/O, Alphaville, Archestratus Books and Food, bedford cheese shop, black flamingo, brooklyn bazaar, Brooklyn Bowl, Brooklyn Steel, BÚÐIN, Golden Drum, House of Yes, knitting factory, Market Hotel, metropolitan bar, Muchmore's, Music Hall of Williamsburg, north brooklyn boat club, north brooklyn farms, Our Wicked Lady, Panther Room, polish slavic federal credit union, Root Mamma, rough trade nyc, sacred arts research foundation, Saint Vitus, The Park Church Co-op, threes @ franklin & kent, Transmitter Park, Videology
0 Comments