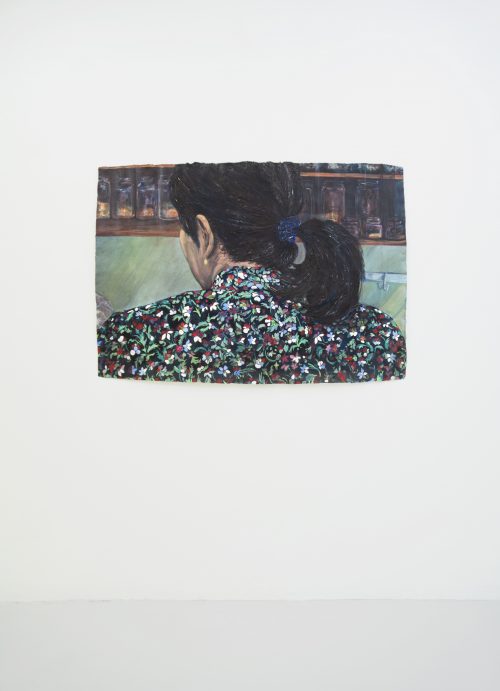 Meena Hasan's newest show at LAUNCH F18 is, what she brilliantly and comically calls, a "kaleidoscopic onion." To understand that, one must first understand her vivid works that stem from diverse compositions and series but are now in giddy and ponderous conversation with each other in one show. She shares this LAUNCH F18 exhibition with the Tommy Kha, who, alongside Meena, is exploring imperialism through a contemporary lens. To learn more about Meena and her work that "investigates and reveals Asian American experiences," read on, follow her Instagram, and visit "Other Echoes Inhabit The Garden" at LAUNCH F18!
Greenpointers: You're a Greenpointer yourself, I hear! How has the neighborhood treated you. Any favorite spots?
Meena Hasan: Yes, I've been in Greenpoint for about six years and I love it. I am hesitant to tell too much, since one of the greatest characteristics of Greenpoint is that the best spots feel secret, tucked away and well supported by local patrons. Northside Bakery has amazing Polish food – schnitzels and stuffed cabage are my go to. I am always on the hunt for good curry and am lucky to have a legit take-out Indian food spot nearby, Moharani, run by Bangladeshis. They use all the right spices and do not water down their food like most places. I also discovered the Lite Bites lunch hour, they have insanely tasty Trinidadian curries and rotis during the week, but you have to hit it before 2pm to get the choicest morsels. Possibly the best hot sauce I've ever had too (in the US). Not to get all romantic about it, but the distinct flavors really do unveil themselves slowly on your tongue, in your throat and belly, like a raga, and trying to decipher their recipe is great fun.
Your current show at LAUNCH F18 Gallery in Tribeca deals with "post-colonial legacy," the press release says. Can you dive into the works you contributed to this exhibition?
This show, titled "Other Echoes Inhabit The Garden" unfolded over time. I like to think of it as a kaleidoscopic onion of distinct shapes and ideas reflecting each other across and through the room. Each of the works that I included is from a different series that I have been working on for the past few years and it's fantastic to see them all hanging out together. Included are a first-person perspective or PoV painting as I call the series of putting on gold bangles, a small paper sculpture of my grandmother's earrings, a portrait of my mother's nape and a large hanging paper piece that investigates and transforms a Chintz pattern (a calico textile made in South Asia for the British). Also included are two small gouaches on cardboard that were made as meditations in between the making of the above pieces.
The show was an experiment in many ways, a chance to juxtapose the many distinctions not only within my pieces but also those in contrast to Tommy's works, with the hope that they would converse, open up and find meaning through their interaction, that they would "echo" in other words. This could be like any group show, but in our case it was particularly significant given our shared desire to investigate and reveal Asian American experiences through our works. Tommy and I, like all children of immigrants, and honestly like the majority of individuals in the world, have inherited the post-colonial legacies of our families. The show seeks to pay respect to this inheritance and, particularly, the matriarchs who have shaped and raised us, whose influence pervades the works and, of course, our daily lives as well. Continue reading →