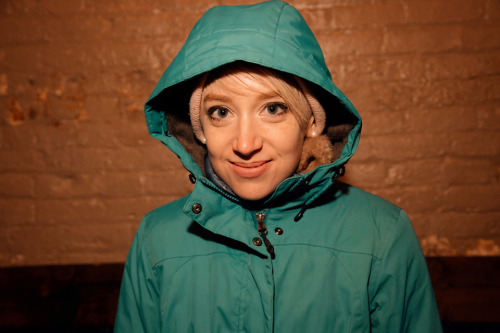 Full disclosure: Mary Houlihan and I used to carpool. The guest star on "Difficult People" and I would be shuttled to Brookside Middle School by my neighbor's mom, but it was always a mystery whether or not Mary would join us on a given school day. Hers was the last house on our carpool journey, and — after a few car honks — Mary emerged, or didn't. I was always grateful for the mornings she did. Even then, she had a stupefyingly offbeat wit — generous but dry, subdued but bonkers. Chipper as we were bitter with her tardiness, Mary would enter the car and chime, "Good morning, friends."
We once shared a commute; we now share a neighborhood. Houlihan embodies the best parts of Greenpoint in her life and career — she builds community, as with her Three Chickies musical improv series, and maintains a signature self-awareness, even as careers (and neighborhoods) change. I'm happy to have caught up and discussed the comedy scene with the sly wizard behind "Learn To Paint With Mary Houlihan!".
Greenpointers: How long have you been in Greenpoint?
Mary Houlihan: About six years. When I first moved here I lived off the Myrtle/Willoughby G stop in Bed-Stuy, then I moved to a big building that flooded in Hurricane Sandy after living there for just a month. Then I moved in with my parents in New Jersey. Then I moved to a green house off Calyer Street, then I lived near Grandma Roses, and now I'm in my current location. I've moved a lot.
The neighborhood's treated you well?
It's treated me well, me likely. It's quiet. It's hidden but not insane.