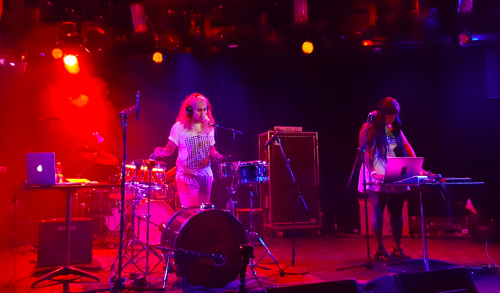 Lights blaze and flash. Smoke rises. "We are Madame Gandhi and we need your attention for the next half hour so we can calm your mind." Kiran Gandhi's District Drum Company light-up drum pulses as she and Alexia Riner deliver a kinetic and elevating performance during Madame Gandhi's debut at (le) Poisson Rouge (LPR) last Tuesday night.
Madame Gandhi is the LA-based "electronic drums and vocals project that celebrates female leadership and explores themes of feminism, gender equality and liberation." It is the project of MIA drummer, feminist activist, and Harvard Business School grad, Kiran Gandhi. She confidently moves back and forth across the stage, dancing, shaking her body to the beat, either one she has created herself through beatboxing and looping or that has been triggered by Alexia on her Ableton Push. It is catalyzing to watch and listen.
Over the last week, Gandhi has played for Sofar Sounds and at Tom Tom Magazine's Oral History of Female Drummers event at the Brooklyn Museum, where she also spoke. Tonight, Monday, March 7, Madame Gandhi performs at the Knitting Factory (361 Metropolitan Avenue) at 7:30pm ($10 advance / $12 doors) as part of the "third annual Oxfam Jam Benefit Concert raising funds to support Oxfam America's mission for creating solutions to poverty, hunger, and injustice." This performance will include Madame Gandhi's third member, DJ Ayes Cold (Ayesha Chugh).
Category:

Art/Music, Culture, Events
Tags:

Bowery Ballroom, Drums, electronic, feminism, Feminist Art, gender equality, Kiran Gandhi, knitting factory, le possion rouge, LPR, Madame Gandhi, Oxfam, The Future is Female
0 Comments