(sponsored)


On Saturday, September 21, 2013 from noon-midnight @ Light Space Studios (1115 Flushing Ave) Galerie Project proudly presents its second exhibition, featuring live DJ sets, paintings, drawings, photography, sculpture, performance dancing, and live audio/visual performance from some of New York's most inspiring talent. Unlike typical gallery exhibits, The Galerie Project aims to create a fully immersive experience through the use of dynamic art & technology within the confines of space, $20 – Buy Tickets, RSVP
Receive What's Happening? via email!

There are more events in our weekly calendar. Submit Greenpoint events, too!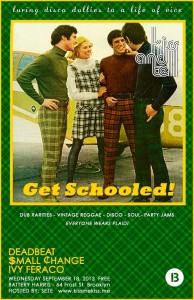 WEDNESDAY 9/18
♦ Renacimiento Art Show @ St. Paul's Lutheran Church (334 S. 5th St) 7-10pm, FREE (donations benefit Girls for Gender Equity Inc), female-driven group art installation transforms the sanctuary into an immersive exploration of life, death, and rebirth, More Info
♦ Drink & Draw 2 for 1 Night @ The Living Gallery (1094 Broadway, Bushwick) 7-9pm, 2 for $10, Tonight's weekly live drawing party is half the price so bring a friend, model, supplies provided, RSVP
♫ Kiss and Tell's Get Schooled! @ Battery Harris (64 Frost St) 7pm-4am, FREE, Dress in your back to school best (think Clueless style plaid) and dance to Jamaican dub and raggae riddims spun by $mall ¢hange / Deadbeat / Ivy Feraco, take a breather to feast on Jamaican jerk chicken/tofu, RSVP, More Info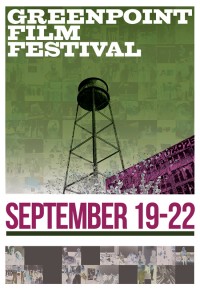 THURSDAY 9/19
♦ NY Art Book Fair Preview @ MoMA PS1 (22-25 Jackson Ave, LIC) 6-9pm, FREE, Opening Night preview of 280 exhibitors at this annual celebration of art & print, live set of underground dance music by MASKS / Terekke, RSVP, More Info
* Greenpoint Film Festival @ From the Source (67 West St.) 6pm (opening reception) & 7pm (screening), The festival begins tonight with an Environmental Program, featuring films on Newton Creek's "heart of darkness" and the East River dolphin, followed by a panel Q&A and after party at Coco66, More Info
♫ Spirit Plate / Lux Perpetua / Friend Roulette / Hippy @ Shea Stadium (20 Meadow St, Bushwick) 8pm, $8, RSVP
♫ Skimast / New England Patriots / Big Ups / Alien Triology @ Death By Audio (49 S 2nd St) 8pm, $7
☺The Cause B Show IV: Man's Best Friend @ Over the Eight (594 Union Ave) 8:30pm, free beer with donation, Stand up show to benefit Badass Brooklyn Animal Rescue , featuring comedians Janine Brito / Adam Newman / Amber Nelson / Tim Dillon / Matt Marango / Shelly Hamilton, RSVP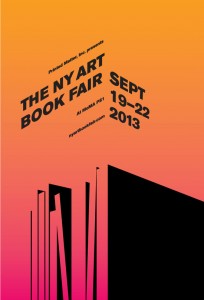 FRIDAY 9/20
* NY Art Book Fair @ MoMA PS1 (22-25 Jackson Ave, LIC) 12-7pm (also Saturday and Sunday from 11am-7pm) FREE, the must-see annual event for artists' books, catalogs, monographs, periodicals, and zines, featuring booths and signings from independent publishers, a conference on art-book culture, "The Classroom" (a series of artist-led workshops), and various exhibitions/releases, More Info 
♫ Charles Bradley and The Menahan Street Band / The Budos Band / Naomi Shelton & Gospel Queens @ Williamsburg Park (N 12th and Kent Ave) 5:30pm, FREE
♫ Tesla Boy / Night Drive @ Glasslands (289 Kent Ave) 8pm, $12, BUY TIX
 ♫ Xenis Rubinos / Ava Luna / Live Footage @ Cameo Gallery (93 N 6th St) 8pm, $8, BUY TIX
• Dave the Spazz Movie Club presents Scarlet Street @ Videology (308 Bedford Ave) 8:30pm, $5, Fritz Lang's 1945 noir about a Greenwich Village floozy and her pimp was orginally censored in New York state for being obsense and even sacreligious, More Info
• The Dead Zone @ Nitehawk (136 Metropolitan Ave) 12:10am, $11, Watch Christopher Walken freak out when he realizes he can see the future in this Stephen King/David Cronenberg thriller, Trailer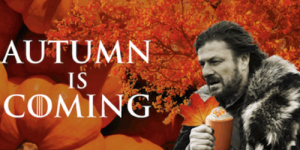 SATURDAY 9/21
• Touch a Truck @ St. Nick's Alliance (Maspeth Avenue & Olive St) 10am-4pm, $5, Bring the kids to see real trucks up close (including some from NYPD & FDNY), special guest Ms. Frizzle will bring her Magic School Bus
♦ The Galerie Project @ Lightspace Studios (1115 Flushing Ave, Bushwick) 12pm-12am, $20, immersive art experience featuring  audio-visual installations, live watercolor and digital painting, dance performances, and DJs Francis Harris / Archie Pelago / Multiple Mono, More Info
* Lobstah Palooza @ The Well (272 Meserole St) 3-10pm, $35 online/ $40 door, Get full on a Maine LOBSTAH dinner (the menu has us positively drooling)  while listening to DJ'd tunes in the Well's beer garden backyard, More Info,  BUY TIX
* ♫ DIIV / Guards / Fletcher C. Johnson @ Havemeyer Park (S.4th St & Kent Ave) 6pm, FREE, RSVP
♫ Rock the Pulaski Benefit Concert @ North Brooklyn Boat Club (49 Ash St) 6:30pm, $5 (proceeds benefit the Boat Club), end Summer right with what will surely be the best superfund site dance party of the season, with live performances by Noise & Rythm / STARINA / Silent Rider / Brandi & the Alexanders / Amerigogo, RSVP
♫ Savoir Adore / The Suzan / Ski Lodge @ Music Hall of Williamsburg (66 N 6th St) 8pm, $12, BUY TIX
♫ Alex Winston / Echo Friendly @ Glasslands (289 Kent Ave) 8pm, $12.50, BUY TIX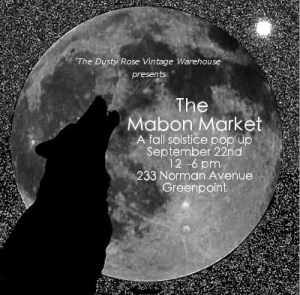 SUNDAY 9/22
* Fall Solstice Pop Up Market @ Dusty Rose Vintage Warehouse (233 Norman Ave) 12-6pm, FREE, Celebrate new beginnings and celestial ritual with artisan wares for the Autumn equinox, like Navajo-inspired bags, dream catchers, candles, and vintage clothing, with free tarot readings and nail art, RSVP
# TASTE Williamsburg Greenpoint @ East River State Park (90 Kent Ave) 1-6pm, $24-$45, Outdoor food fest featuring over 40 of North Brooklyn's favorite restaurants & bars (think Adelina's, Gwynnett St, Pies 'n' Thighs, & many more), with DJ sets from Queen Majesty and Jonathan Toubin, More Info
♫ Lady Lamb The Beekeeper / Cassandra Jenkins @ Glasslands (289 Kent Ave) 8:30pm, $12, BUY TIX
MONDAY 9/23   
♫ The Henry Millers / Johnny Stimson / Sunflares @ Cameo Gallery (93 N 6th St) 8pm, $8, BUY TIX
♫ The Denzels / Cool Serbia / The Teen Age / El Sportivo @ Glasslands (289 Kent Ave) 8:30pm, $10, BUY TIX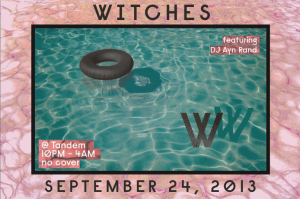 TUESDAY 9/24
# The Masters of Social Gastronomy: BBQ Edition @ The Brooklyn Kitchen (100 Frost St) 6:30-8:30pm, $5, Curious about the variety of slow-cooked meat techinques from Spanish barbacoa to Austin brisket ? Brooklyn Brainery has the sweet and smoky history, RSVP
♥ Witches of Bushwick @ Tandem Bar (236 Troutman St) 10pm, FREE, Queer lady dance party with DJ Ayn Rand (amazing), tarot readings, and general debauchery, RSVP
* Greenpointers' Pick
♫ Music
♥ Pheremones likely
♦ Art Event
☺Comedy Event
# Foodie Event
Category:

Events, What's Happening?
Tags:

art shows, autumn, brooklyn events, bushwick events, cheap events, Concerts, dance parties, events, fall, fashion, film, Free, free events, fun, Greenpoint Events, lobstah, Music, Openings, screenings, shopping, shows, things to do
0 Comments