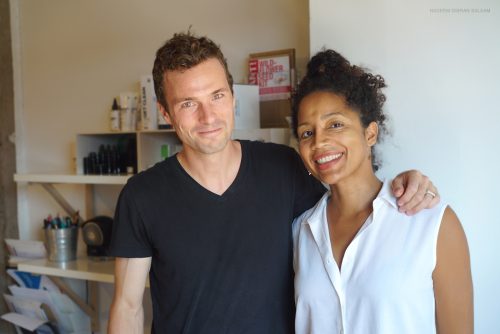 Meet the husband-and-wife co-founders of Plant Apothecary, Bjarke and Holly.
Holly McWhorter and Bjarke Ballisager, are a well rounded husband-and-wife team with backgrounds in architecture, journalism, and music. They started PLANT Apothecary back in 2012 when they saw an opportunity to promote healthy ingredients, environmental friendliness, and social responsibility. Starting with organic bodywashes, the line has since grown to include moisturizers, masks and more. We chatted with them to explore their current product line and what's next for this dynamic conscious duo.
GP: Say I just stumbled blindly upon your company, how would you describe what it is you provide?
Holly: We're an organic skincare and bath products company based in Williamsburg and Greenpoint. We also have multiple missions, environmental sustainability, social responsibility, [with] cool package design to whatever extent we can! We both [looks to Bjarke] have design and architecture backgrounds, that was a big part of where we came into this industry from.
GP: What was the local landscape of organic products when you entered the market?
Holly: At the time we started, about 5 years ago, there weren't as many organic all-natural skincare products that were really straight forward with contemporary design focused on minimalism. It was either, we're trying to sell you something luxury so you felt you were buying into the luxury life-style, or hippie centric, and either way, things were very status conscious, but we liked very straight forward products and packaging, so we created Plant Apothecary to fill the hole in the market. Continue reading →
Category:
Style/Shopping
Tags:

beauty, Greenpoint, lifestyle, plant apothecary, products, shopping, skin, skincares, style, tyle, wellness
0 Comments