Receive What's Happening? via email!


There are more events in our weekly calendar. Submit Greenpoint events, too!
WEDNESDAY 5/1
♦ I Stay Under Glass @ Picture Farm (338 Wythe Ave) 6-9pm, Photography by Grant Cornett, RSVP
♫ Bad Credit No Credit / Hard Bodies / Bueno / Rohypnotise @ Shea Stadium (20 Meadow St, Bushwick) 8pm, $7, RSVP
THURSDAY 5/2
* The Audacity of Hops Book Launch Party @ The Brooklyn Brewery (79 North 11th St) 7:30-10:30pm, FREE, Tom Acitelli speaks about the history of Brooklyn Brewery, copies of his book will be on sale. Reservation required, email audacityofhopsbook(at)gmail.com, More Info
♫ Starlight Girls / The Suzan / Dangerous Ponies / Slutever @ Death by Audio (49 S. 2nd St)8pm, $7 RSVP
FRIDAY 5/3
♥ Beloved Birthday Party @ Beloved (674 Manhattan Ave) 5pm-Late, Drink specials/Fernet-Branca Bicycle raffle/DJ group Kids With Snakes and a makeout corner! More Info
♦ Resurrection @ The Active Space (566 Johnson Ave, Bushwick) Opening Reception 6-10pm, FREE, Artists Katie Bell, Suzanna Goldenberg, Rachel Hayes, JR Larson, Matt Miller, Bridget Mullen, Rosee Tibbles, RSVP
♥ le BUMP: The Revenge @ Over The Eight (594 Union Ave) 10:30pm-Close, FREE, Get sweaty at the newest bar in town with DJs Mister Disco & Brian Blackout, RSVP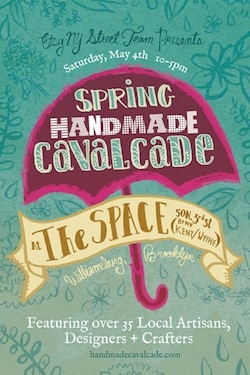 SATURDAY 5/4
• Spring Handmade Cavalcade @ The Space (50 N.3rd St) 10am-5pm, FREE, Featuring
over 35 local artisans, designers and crafters, More Info
• A Four Roses Kentucky Derby @ Noorman's Kil (609 Grand St) 2pm, FREE, Listen to the race over the radio, Four Roses Mint Juleps, best dressed contest, RSVP
• Kentucky Derby Party @ Videology (308 Bedford Ave) 3-7pm, FREE, 3pm, $6 mint juleps and Derby pie, More Info
• Kentucky Derby Day @Pete's Candy Store (709 Lorimer Street) 3pm, Ladies millinery competition, Bluegrass blue-plate special, More Info
• Kentucky Der-B-Q @ Mark Bar (1025 Manhattan Ave) 4pm, Kentucky BBQ
$6 Mint Juleps, RSVP
♦ Nurturing Nature Art Exhibit @ The ceeflat (988 Manhattan Ave) 4-10pm, Nature-Inspired pieces by Carla E. Reyes and Ian Montgomery, musical performances from The Devyl Nellys / Mission On Mars / Ghandi, RSVP
♦ Significant Matters @ Projekt722 (722 Metropolitan Ave, 2nd Fl) Opening Reception 6-9pm, FREE, artwork by Nobutaka Aozaki, Miwa Koizumi, Kenichi Nakajima, Andrew Zarou, More Info
♫ Phebe Starr / Clementine & The Galaxy / Bob and Martha @ Paper Box (17 Meadow St, Bushwick) 6-9pm, $12, RSVP
♫ East Bank Music Series @ The Episcopal Church of the Ascension (127 Kent Ave St) 8pm, $10 suggested, Performers from Manhattan School of Music's put on an evening of contemporary classical music, More Info
* Fading Ads of Greenpoint Walking Tour @ All Over Greenpoint, 11:30am, FREE, Join Preservation Greenpoint and photographer Frank Jump on a walking tour of the fading ads of Greenpoint, RSVP for meeting location, More Info
♦ A Lot of Sorrow featuring The National @ MoMA PS1 (22-25 Jackson Ave, LIC) Noon-6pm, $15 , Artist Ragnar Kjartansson sought out The National, to perform their song, Sorrow, repeatedly in a six-hour live loop for this performance, More Info
• Cinco De Mayo @ One Stop Beer Shop (134 Kingsland Ave) Noon-2am, FREE, Complimentary Teacate & Dos Equis, prizes, RSVP
• Cinco De Mayo Brunch @ Sindicato De Cocineros (57A Nassau Ave) 12-4pm, $1 fish taco, $5 tecate & shot, $6 margaritas, first come first serve
• Cinco De Mayo @ Habitat (988 Manhattan Ave) Noon-11pm, Three Amigos playing on the big screen all day plus drink specials, More Info
♦ Works Cited, reprised @ Cleopatra's (110 Meserole St) 3pm, curated by Olivian Chan, a set of reflections, deflections and thoughtful quotations linked through a shared involvement in a series of displays and programs at the Los Angeles Public Library, RSVP
# Greenpointers "Cinco De Mayo" Sunday Supper #5  @ Beloved (674 Manhattan Ave) 7pm-9pm, $4o, special "Cinco De Mayo" Greenmarket inspired menu created by Chef Heather Cahill of Farm to Fridge, More Info
☺Run from the Police Comedy @ Muchmore's (2 Havenmeyer St) 8:30-11pm, FREE
♫ Body Language / Pegasus Warning /#1 Kid @ Glasslands (289 Kent Ave) 8:30pm, $12, RSVP
MONDAY 5/6
* Greenpoint Landing Public Meeting @ McCarren Park Recreational Center (776 Lorimer St) 6:30pm, learn about Greenpoint Landing, 77 Commercial St, Newtown Barge and Box Street Parks
TUESDAY 5/7
*S.A.S.S. Presents: Historical Figures who Said "Fuck it." @ Public Assembly (70 N.6th St) 7pm, FREE, lecture covers military leaders who gave up when the going got rough / abandoned construction projects / ladies who decided they just had enough, RSVP
☺The Trap-Variety Show @ Pete's Candy Store (709 Lorimer St) 8pm, FREE, Dan St. Germain / Jamie Lee / Will Hines / Natalie Shure / Hand Job Academy, RSVP
*  Greenpointers' Pick
♫ Music
♥  Pheremones likely
♦  Art Event
☺ Comedy Event
#  Foodie Event
Category:

Events, What's Happening?
Tags:

Body Language, Brooklyn, Brooklyn Brewery, Bushwick, cinco de mayo, comedy shows, Concerts, events, free events, Gallery Openings, Greenpoint, Kentucky Derby Parties, nightlife, PS1, S.A.S.S Lectures, Spring Handmade Cavalace, Supper Club, That National, walking tour, Williamsburg
0 Comments