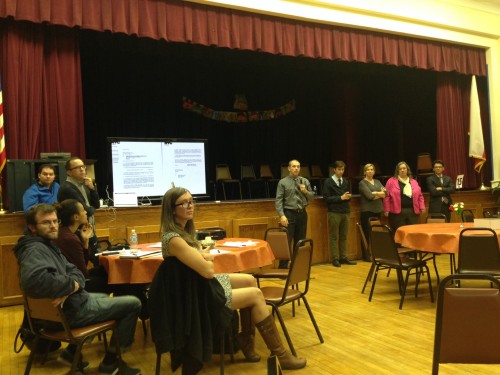 By now, most of you are familiar with the story of the Cityfox rave that never was. To sum it up briefly, a club promoter sold thousands of tickets to an all-night Halloween fête in Greenpoint's toxic NuHart Plastics building. Due to intervention from the Fire Department, the party never quite made it to witching hour, but many residents are super pissed that something like this almost went down at a state Superfund site — and across the street from a senior center, no less.
Beyond that, the details are somewhat difficult to follow, which makes it hard to know exactly where to point fingers, even if the impetus is hardly in short supply. Cityfox issued a public apology yesterday, and organizers at Monday night's NAG meeting made a point to save any rave-related questions for last, but the Q&A session quickly became a sounding board for public outrage. As one resident summed it up, the whole thing was a "huge slap in the face" for a community that's been impacted by the building's toxic history and is now grudgingly attempting to trust developers who claim to have its best interests in mind.
Fielding many of these questions was geologist Michael Roux, the environmental consultant for Dupont Street Developers LLC, which bought the NuHart site in 2014. He was joined by Yi Han, a representative of the group. Together, their account was confusing and at times seemingly contradictory to some of the other things we now know about the incident (for instance, Han said the owners never signed a contract, but NAG has supplied copies of the signed party permit on its website. To be clear, the building is owned by multiple parties). Additionally, Roux said that he wouldn't be "totally forthcoming with everything [he knows]," as he's been put on notice of potential legal action by the state.
In order to help make heads of tails, here's a rough chronological timeline presented from multiple perspectives. Continue reading →