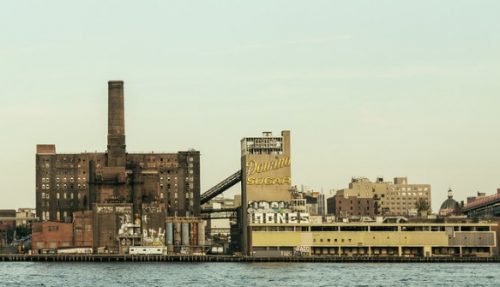 The Municipal Art Society of New York is bringing back Jane's Walk NYC, which is part of "a global festival of free, volunteer-led walking conversations inspired by urban activist Jane Jacobs," with tours happening in all five boroughs this weekend. See the tours happening in Greenpoint and Williamsburg:
Saturday at 11 a.m. and 1 p.m.:
Join author of " The Rise and Fall of the Sugar King" Geoffrey Cobb as he explains the history of the Domino plant, which was the largest sugar refinery in the world and the linchpin in the "Sugar Trust." The tour focuses on the brutal conditions for the thousands of workers who toiled and died working in the landmarked building now undergoing a controversial luxury renovation.
Saturday at 11 a.m.:
Rezoning Brooklyn: "Where's Our Park?!":
Written into the rezoning of the Williamsburg-Greenpoint's waterfront was a promise of a park. Ever since area residents have steadily chanted; "Where's Our Park?!"

Join Lynn del Sol, a native New Yorker and twenty year resident of the area, in a discussion about the rezoning North Brooklyn's waterfront and what happens when city government, private interest, and community residents duel over two miles of land.