Question: What do you do when you have very deep roots within a church that you love and sacrifice for, and then in comes a new honcho who stops ALL ACTIVITIES within the church and Parish. The Parish was finally in a good place, someplace it had not been in awhile and wham, torn to pieces again. Do you look for a new Parish or do you keep fighting those in charge?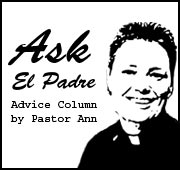 Dear Displaced Disciple,
It sounds like you're going through some difficult changes in your local church. Who knows, you could be describing my church. Over the time that I've served the Greenpoint Reformed Church, lots of changes have occurred. I'm sure that some of these were greeted with joy and others…well, I know that some folks aren't so thrilled with the changes that have been made.
Houses of worship, especially in a city as vibrant as ours, are constantly changing. Continue reading →