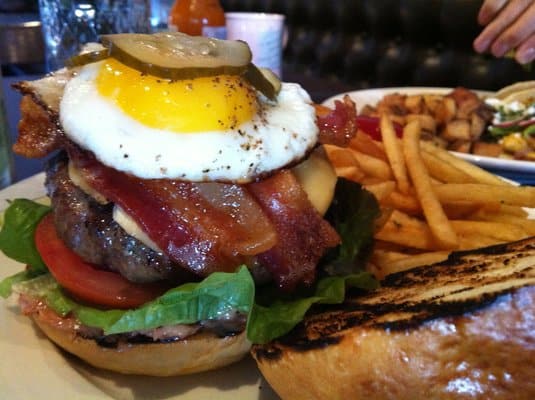 Before the advent of the Bacon Age, when it was decided that everything goes better with bacon, I always thought that most things can be improved with one simple fried egg added to almost any dish.  So, yeah, the egg came first. You really can take a not totally interesting dish to the next level by adding a sunny-side up, over easy or poached egg.
Here's ten dishes made better with a fried egg:
1. Cheeseburger with Fried Egg. The image above was taken by me at bar & restaurant, Greenpoint Heights, of their "Brunch Burger" made with: smoked gouda, bacon, grass fed beef, pickles, tomato, onion, lettuce with cherry mayo and of course a messy egg that brings all the flavors together.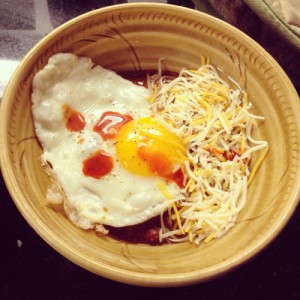 2.  Chili with Fried Egg, Cheese and Hot Sauce. Homemade chili or even chili in a can sometimes doesn't feel like a full meal unless it has that extra kick, like a fried egg. Let some grated cheese melt on the chili and make it a little extra spicy with some Cholula or Tapatio.
3. Ramen with Fried Egg. This is the most common combination you'll find online and it turns a one dollar snack into a two dollar meal. It would be crazy not to include it on this list, however, I hit my Ramen limit way back in my third year in undergraduate school.
Category:

Eat & Drink, Recipes
Tags:

add an egg, beans, cheeseburger, chili, egg, eggs, english muffin, Foodis Operandi, fried egg, indian, kale, leftovers, pancakes, ramen, rice, rice and beans, stir fry
0 Comments