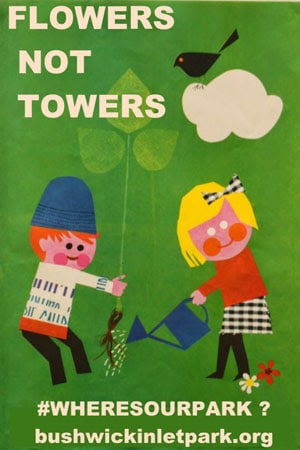 What's been going on with the negotiations between the city and the owner of the CitiStorage site? Come join Friends of Bushwick Inlet Park tonight at Greenpoint Beer & Ale to chat about the park's future. While there's currently nothing specific to report, FBIP has been told that the parties have begun negotiating, so they're cautiously optimistic. But that said, they believe that time is of the essence and hope the parties will come to a settlement soon. However, if negotiations fall apart and no deal is made then potentially the only remaining course of action would be for the city proceed to eminent domain and condemn the CitiStorage site for the public good, fulfilling the 2005 rezoning agreement to the benefit of all New Yorkers.
Join FBIP tonight and engage with fellow open space advocates!
Greenpoint Beer and Ale | 7 N15th St @ Franklin St.
Wednesday October 5th
Meet Up at 7:00pm
Updates + Q&A at 7:30-8:00pm
Craft Beer & Conversation thereafter
Related stories:
What's Next For Bushwick Inlet Park As $100 Mill Offer Expires
Where's our park? In the hands of another developer if CitiStorage owner has his way.
At CitiStorage Rally, Various Words that Amounted to 'Where's Our Park?'
Watch Out CitiStorage. Eminent Domain Wants to Head Your Way!
Category:

Community, Environmental, Events
Tags:

Bushwick Inlet Park, CitiStorage, development, evironment, fbip, Greenpoint, greenpoint beer and ale, news, park, parks, waterfront, Where's our Park, Williamsburg
0 Comments