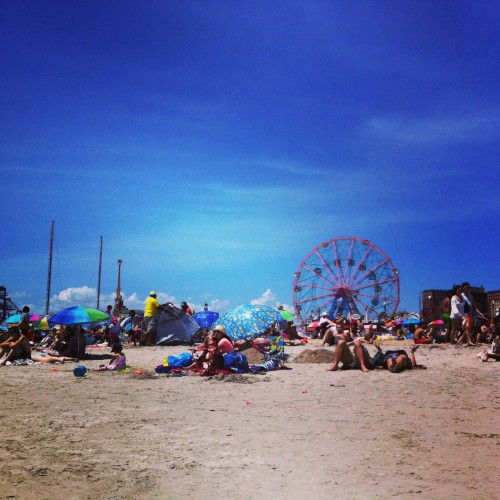 Dudes! The Fourth of July has passed. August is fast approaching. Sure, this constant humidity and 90 degree heat sucks and begs us to stay indoors in front of the AC racking up the electric bill, but we cannot let Mother Nature win!
Autumn's cool breeze will be blowing leaves in our faces before we know it. We've got to take charge and make the most out of the last of our summer weeks. Here are a few inexpensive suggestions to help you end these hot, sunny days with a BANG.
1. Bike to Coney Island
I dare you! It's not as far as you think. Well, it is, but it's a pretty flat, easy route and once you arrive you can eat a hot dog at Nathan's, jump in the ocean depending on how hardcore you are, and then brag to your friends that you biked 26+ miles. Once you get past Prospect Park, you're on the Ocean Parkway Greenway for a little more than 4 miles. This bike path is mostly shaded and separate from the street so it's safe and for the most part a pretty sweet ride. If you're one of those New Yorkers who's never been to the historic amusement park, I highly recommend it. Heck, I demand it. It's equal parts awe-inspiring and gross, but will dazzle you nonetheless. Also, you've got to ride the Cyclone at least once in your life.
Biking directions from Greenpoint to Coney Island: http://goo.gl/maps/VbWdy Continue reading →
Category:
Events
Tags:

bicycle, biking, Coney Island, East River Ferry, event guide, nyc beaches, rockaway, screenings, summer, summer guide, things to do
0 Comments