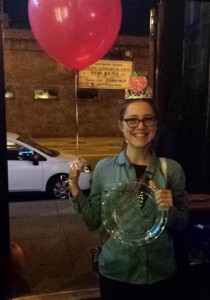 We are so proud that the talented and amazing Greenpointers contributor responsible for the hilarious and adorable illustrations in her Friday column "Recipes Gone Wild" – is the champion of Enid's Apple Pie Contest that happened this past Sunday!!! We asked her how it feels to win the most competitive Apple Pie contest in the universe:
GP: So, how many pies were you up against?
Libby: Somewhere around 28-30.
GP: Did you think you had a chance at winning?
Libby: I didn't think I'd win because my pie looked like a lumpy, primitive life form in a world of civilized, beautiful pies. But I did have one special ingredient in my arsenal, which I was hoping would give me an edge. Continue reading →